The Keener Phenomenon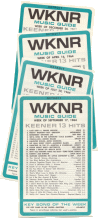 WKNR. For those who listened to Detroit radio in the 60s, these four letters evoke a certain awe. For they were associated with a radio station. A station with a relatively weak signal and neglected facilities, licensed to a Motown suburb. A station that began life in 1946 and spent its minority years in obscurity. A station that was re-born on Halloween night, October 31, 1963, rocketing from nowhere to become the most popular dial position in Detroit, all in a mere 91 days. Bill Gavin, a rock radio observer who tracked these things called it the fastest turn-around in broadcasting history and for the next half decade WKNR dominated Detroit radio. It's formula was often imitated but rarely equaled. Its charismatic energy came and went like a fourth of July fireworks display: breathtaking, unforgettable and done too soon.
This was the Keener phenomenon.
It's basis seems incredibly simple in hindsight: A tight playlist, a format that featured what former Keener PD Bob Green calls "intelligent flexibility", listener research, creative promotions and frenetic announcers who were encouraged to stretch the edge of the entertainment envelope. It's the formula that Drake and Chenault cloned to create CKLW, KHJ and a myriad of imitators. It's a recipe that virtually every radio station in today's homogenized cardboard world of Kiss and Kool tries to emulate. But for WKNR, it was the right time, the right elements and the right place, and for an all-too-brief period it was Camelot.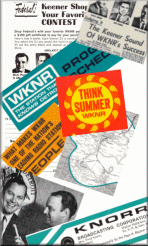 Keener was a career catalyst for legendary Detroit radio announcers Robin Seymour, Dick Purtan, J. Michael Wilson, Bob Green, Gary Stevens, Scott Regen, Tom Ryan and Pat St. John. It inspired programmers like Bill Hennes and set the standard of performance for dozens of others who dreamt of a broadcasting career.
Keener jocks were as popular as the recording artists who populated the WKNR top 31. When the stars wanted to win over the Detroit radio audience, they came to Keener. WKNR helped launch the Beatles, and between Russ Gibb and Paul Cannon, Keener "killed" Paul McCartney. Bob Green's casual mention that he was hungry for pizza brought Michigan Avenue traffic to a stand-still. The Bell System threatened to cut off Keener's phone service when Mort Crowley regularly jammed the Detroit exchanges seeking listener requests. WKNR's innovative traffic reports were the precursor to today's sophisticated traffic networks. WKNR-FM pioneered the album rock format that is still a fixture in nearly every major radio market. And Keener FM's Stereo Island became the foundation for the WNIC soft rock concept that dominated Detroit radio a quarter century later.
At its height, the Keener phenomenon was so powerful that even with its deficient AM nighttime signal, WKNR had more listeners and made more money than CKLW. And in June of 1971, even as the Keener magic was waning, Art Vuolo's definitive documentary, "The History of Detroit Radio", devoted more airtime to the WKNR story than to any other Detroit radio station.
Like Camelot, Keener's reign was short, magical, and marked by glorious achievement and a tragic ending. Even now, over 30 years later, we still talk about it, and wish we could experience it… one more time.
How it all began
One of the ironic twists of the Keener legend is the fact that its winning format was born out of personal tragedy. On December 29, 1946, broadcaster Fred Knorr, along with partners William McCoy and Harvey Hanson, launched WKMH. The new station was licensed to Dearborn, Michigan and operated during daytime hours with 2,000 watts of power at 1540 kilocycles on the AM radio dial. Two years later, WKHM increased to a 24 hour schedule and switched frequencies to 1310.
John Carroll was there at the beginning. He told keener13.com that the original WKMH studios were located in a furniture store. "We used to say 'in the attic of the Gagnon Furniture Company' since the original studios were in their upper floor which we rented. 'Nobody listens to that Dearborn station' was the quote in 1950 from most all the Detroit advertising agencies."
Carroll rose from account executive to sales manager, general manager and ultimately vice president of Knorr Broadcasting. "Those WERE the thrilling days of yesteryear," he said. Broadcasting continues to run in The family. His son manages Carroll Broadcasting's portfolio of four stations covering eastern Michigan.
Another person who was an early WKMH employee was Robin Seymour. Robin came aboard after a stint with Armed Forces Radio and can claim the distinction of playing some of the first rock and roll on the Detroit airwaves. He told author David Carson that he debuted the Crows "Gee" in 1954. "The music mix was so weird back then. You would have Patti Page and then I would throw in the Crows and next you might hear Mantovani."*
By the early 1960s, WKMH sounded like dozens of other full-service radio stations, boasting a playlist that included Basie and Brubeck and a news and information focus that was rooted in its alliance with the Mutual Broadcasting System. Coverage of the Detroit area was passable during the day, but when nighttime operation was instituted, certain sections of the metro area could not receive the highly directional signal.
Paul Cannon, who worked at the station from 1961 to 1970, remembers that "The night time pattern was much like an inverted tear drop. Because the transmitter was and still is near I-94 & Telegraph the eastern portion of the Detroit Metro area was not covered. We had a great signal in the west side of the metro area."
Some listeners had their own idea of why the station couldn't be heard on the East Side. One young man called the station and said that he wished he could hear WKNR better in Roseville, but he understood why he could not. He said that ".. because your station is so popular a lot of the radio signal is being used up by all the listeners."
Fred Knorr was an early president of the fledgling Michigan Association of Broadcasters (1955) and also owned WKHM in Jackson as well as stations in Flint, Bay City and Battle Creek. In 1956, he and fellow broadcaster John Fetzer bought the Detroit Tigers and their Briggs Stadium home for a then-record 5.5 million dollars. Knorr served as Tiger president for two years.
Knorr's programming philosophy was at odds with the top 40 format and going in that direction was uncomfortable at first, in spite of the obvious enhancement to the bottom line. And as WKMH entered the 1960s its sounded like many of the other non-descript full-service radio stations of the day.
In 1960, Fred Knorr died unexpectedly after a freak accident at his Florida home. Nellie continued oversight of the station with Walter Patterson as General Manager. Frank Maruca was named Program Director in 1961. The core of the senior management team of what would become WKNR was now in place.
Gary Stevens was a successful announcer in St. Louis when he received an offer to work at WKMH. In an interview for Art Vuolo's 1971 documentary, The History of Detroit Radio, he remembered that within the industry, WKMH was considered a loser, a run-down facility in a beat-up building. He arrived in October of 1963 to find that the stories were true. He thought he had made a mistake. His plan: to work through the winter and leave in the Spring.?
Meanwhile, in Geneva New York, Bob Green received a package from a friend in Boston. The announcer and production wizard at WGVA opened the box to find a tape featuring the WKMH jingle package. Bob was impressed with what he heard and dashed off an air check and note to Frank Maruca saying he was planning to vacation in Detroit the following week. Could he visit WKMH during the trip? Maruca, who had been hired only a week before, called Bob to invite him to stop in. "I almost went nuts," Bob said. "I had NO trip planned, I was BSing. I 'got sick' at WGVA, got in my car and headed for Detroit. Got the gig."
By the end of 1962, Bob shared Gary Stevens' assessment. The business was floundering. He accepted an offer from WQAM and left Detroit for Miami. Although he hated the Florida heat, Bob was drawn to the opportunity of working for Top 40 pioneer Todd Storz. After buying WQAM for $850,000, Storz turned the station into a market leader with a national reputation. Bob worked in the same market with the likes of Jerry Goodwin, Ted Clark and Rock Robins, a young New Yorker born with the name Bob Bernstein who would gain Keener fame as Scott Regen. Bob Green enjoyed the energy at WQAM, a station at the top of its game, but by the middle of 1963 he heard that changes were in the wind for WKMH.
In 1963, Detroit had three top-40 stations, CKLW, WJBK and WXYZ. Each had its share of excellent announcers, but broadcasted a wide array of music and suffered from what Green called "a lack of consistency and definition."
With Fred Knorr gone from the scene, Nellie began to consider the possibility that WKMH might be more competitive if it played more rock and roll. She brought in programmer Mike Joseph to tighten up the station sound.
Joseph earned his programmers stripes at WTAC in Flint and gained fame in 1960 when he launched the Top 40 format that started WABC on its road to the dominance of the New York radio market. His magic formula: personality, promotion and a tight play list, was something that contemporary programmers Gordon McLendon and Chuck Blore were parallel processing in other markets and the results were staggering. In a time when network radio was dying and television was earning the big audience shares, Top 40 stations had become the dominant players on the radio dial.
It was something the WKMH staff had been advocating for some time. According to Bob Green, "By 1962 we all knew what had to be done to make WKMH more competitive in the market, especially our program director, Frank Maruca. But management wasn't about to listen. It's like the old 'out of town expert' routine. And spending big bucks to have Mike Joseph tell you essentially the same things seemed to make sense somehow. Not to be unkind or take it away from Mike, but it really wasn't brain surgery. Get rid of mutual, play a tight top 40..or in this case, top 30, go with personality, contests etc etc."
The notion of a "total station sound" was something that Bob Green had experienced first hand in Miami. It was a concept that was lacking at the other Detroit popular music stations. He returned to WKMH to help launch the newly minted WKNR, joining Gary Stevens, Mort Crowley, Jim Sanders, Bill Phillips, Paul Cannon and WKMH hold-over Robin Seymour as the core of the original Keener cast.
Gary Stevens said that the team didn't buy into everything Mike Joseph had proposed and soon made a few changes. Bob Green agrees. "We simply kept the obvious universal truths inherent in any top 40 of the era, and got rid of the superfluous and silly features Mike had set in place. This was done about 3 days after we started."
Program Director Frank Maruca is rightly credited as one of the architects of Keener's success. A master of sales promotion, Maruca engineered WKNR's launch plan. He committed $130,000 to promote the new station, including a thirteen day teaser campaign prior to launch, a series of full page newspaper ads, high school book covers, 500 hand made "Spooktacular" announcements mailed to ad agencies and clients, 2.5 million matchbooks and 50,000 Keener bumper stickers.
The late Mort Crowley was Keener's first morning man. "We were hooked up in a battle with three other radio stations that were playing the same kind of music.. plus the rhythm and blues stations.. in perhaps one of the wildest markets.. I've ever been in," he said. "It was up-and-at-em and get out of bed in the morning and go for that red meat everyday."
Crowley remembered that the market was, "..highly competitive, highly spirited, tensions of course were very high. But personal drive and personal ambition were very high, too. There was a lot of esprit de corps at the radio station and that's why they went so far with the people they had."?
Bob Green recounted Keener's sling-shot climb from nowhere to the top. "Within 30 days we went from a 3/10 of a percent rating to 6%. Within 2 months we were at 14% and within three months we were solid number 1."
The Glory Years
From the beginning, response to the new WKNR was overwhelming. And it lead to a quick change in the critical morning drive slot.
One of Mort Crowley's morning show shticks was a call in bit he did with factory workers. The segment regularly jammed the local phone exchanges, prompting the Bell System to threaten to disconnect WKNR's telephone service. Frank Maruca remembers that, "Mort went on the air accusing the telephone company of being a monopoly, threw in the gas and electric companies for good measure and.. ultimately resigned on the air."
Crowley was replaced by Frank "Swingin" Sweeney . Sweeney held the morning drive spot for a year before his chronic insomnia got the better of him. Sweeney was on track to leave the morning shift for a promotion to assistant program director. On Saturday, August 7, 1965, he arrived late to relieve Jerry Goodwin who was finishing a long overnight shift as substitute for Jim Jeffires. A control room argument escalated into a fracas and Swingin Sweeney found himself between opportunities.
Dick Purtan became the third Keener morning man. on August 9, 1965.
Purtan came to Detroit from Cincinnati's WSAI in May of 1965, replacing Bill Phillips on the 10PM-1AM shift . After a month and a half Tom Ryan joined Dick as a creative collaborator, developing the Mary Poppins fan-club and characters like Bill Sports and Captain Happy. The two had a fruitful partnership that later included stops at WXYZ and CKLW.
Dick and Scott Regen, who launched his Keener career a week prior to Purtan, were enthusiastic competitors. Regen came to Detroit with a bigger fanfare, owning the nighttime ratings despite Keener's deficient signal . The Scott Regen Burger Club had thousands of card-carrying members and his Motown Monday program showcased Barry Gordy's top R&B talent.
When Dick Purtan moved to mornings, J. Michael Wilson came aboard to fill the 10 PM – 1 AM shift . Wilson's most memorable shtick was Rodney the Rodent. Rodney was created by increasing the size of the capstan on the control room tape machine, giving J. Mike's voice a slightly higher timbre ala David Seville's Chipmunks. Wilson and Rodney lead the late night ratings race for three years until 1968 when the duo moved to the morning shift.
One of Keener's biggest fans was Henry Ford. One morning Frank Maruca and news director Phillip Nye were leaving the building and a chauffer driven Lincoln drove buy. The window rolled down and the head of the world's second largest auto company yelled out "Yea Keener!"
CKLW 20/20 news anchor Keith Radford grew up listening to Keener and remembers the station as "perhaps the only station that gave the Big 8 a run for its money."
Clouds on the horizon..
By March of 1967, Keener was printing money, and becoming vulnerable. Bloated with 18 minutes of commercials per hour, listeners were almost as likely to tune in to a stop-set as they were to hear the music and personality mix that had been WKNR's secret to success.
Across the Detroit river in Windsor, Paul Drew had joined CKLW. Under the guidance of Bill Drake, Drew copied the Drake formula that had turned around Los Angeles' KHJ. And the Motor City took notice.
The Big 8 had fewer commercials, played quick shotgun jingles and held the air staff to strict formatics that kept the focus on the music. CK's play list featured more of the R&B sounds that were increasingly popular on Detroit stations like WCHB and WJLB. And the station's 50,000 watt signal made it a ratings contender throughout Michigan and Ohio.
WKNR turned again to the programming talents of Mike Joseph, who instituted similar restrictions on the personalities that had been Keener's life blood. By December, billing had decreased dramatically and management decided to cut expenses. Ted Clark, Jerry Goodwin, Bob Green and Scott Regen, the core Keener's popular talent pool, were all jettisoned.
Dick Purtan held his ground in morning drive but could see the handwriting on the wall. He spurned an offer to do afternoons at WXYZ and made a short, but memorable trip to WBAL in Baltimore. Station management had wanted to take advantage of Dick's irreverent approach, but it was soon clear that WBAL didn't have the "guts" to handle the Purtan talent. Dick returned to Detroit and after stops at WXYZ, CKLW, and WCZY, is still doing his thing at WOMC.
J. Michael Wilson filled Purtan's shoes in the morning before taking Rodney with him to Toronto's 1050 CHUM. Today, he's retired from the radio business and lives in Ohio.
For the next two years a parade of able entertainers did their best to maintain some semblance of Keener magic. But WKNR's days of owning 20 shares in the Detroit ratings race were over.
A Final Run for Glory
1971 – Bob Green returns to WKNR and is named program director. He's given the assignment to rejuvenate the Keener sound. Bob hired a fresh line-up of air talent including Jim Tate, Mack Owens, Dan Henderson and Pat St. John. Programming consultant Lee Sherwood added his own unique contribution to the Keener legacy, commissioning PAMS to create a charismatic logo package to showcase Keener's Motor City Music. The Sig Alert series, dubbed CLYDE (Cool Logos You Didn't Expect) by PAMS production wizard Jonathan Wolfert, is universally recognized as the hottest new jingle package in America and is syndicated worldwide.
But the world is tuning to FM. WRIF, W4 and WABX fight for the album rocker audience and WDRQ is grabbing a larger teen share. Keener's perennial problem, an weak AM signal and ineffective night-time coverage pattern makes it virtually impossible to compete. After a brief foray into the album rock genre, WKNR-FM debuts a new concept in soft-rock, inventing "Stereo Island". PAMS creates a ground breaking Stereo Island jingle package and the FM jocks (Bob Bartlett, Jim Cutler, Bob Chenault and Tom Graye among them) master the art of creating seamless music sets that generate strong listenership among Motown office workers and businesses. The format spawns imitators including Lansing's WFMK.
Despite the herculean effort, Keener's days were numbered. In 1972 the company was sold and the new owners decided that WKNR-FM would compete with WLDM for the beautiful music audience, shadow-casting the format on the AM dial. On April 25, John McRae was close to tears as he thanked the station's faithful listeners for "making nearly a decade.. Keener season." The Byrds sang "Turn, Turn, Turn" and WKNR faded into history.
The End of an Era
Keener was history. But across the Detroit river, another AM powerhouse would soon become a memory. The Canadian Radio and Television Commission, Canada's version of the FCC initiated strict content rules requiring all Canadian stations to devote a significant portion of their airtime to "Canadian Content." At CKLW, that meant playing lots of Joni Mitchell, Blood Sweat and Tears (David Clayton Thomas was Canadian), Neil Young, Paul Anka and the Guess Who. Even with Keener legend Dick Purtan holding up the morning drive numbers, this draconian regulatory approach, coupled with the dominant popularity of higher fidelity FM signals spelled doom for The Big 8.
There's an interesting postscript to our story. For a brief time, Keener was reborn. Paul Christie convinced Ed Christian to put classic top 40 gold and the Keener 13 moniker back on 1310 AM in the late 70s. Steve Schram worked at the rejuvenated Keener and, after a few career stops along the way, returned to WNIC as the general manager, taking the former WKNR-FM to the top of the Detroit radio ratings. Once again, there was a number one station at 15001 Michigan Avenue. Steve made sure that the 100.3 FM staff was always aware of the creative legacy that permeated the former home of WKNR.
For two magic weekends in 2002 and 2003, the authentic Keener sound was again heard on the same 1310 KHz transmitter that had originally broadcast WKNR across Detroit. Keener13.com founders Scott Westerman and Steve Schram brought back the music, the jingles and many of the original announcers to help celebrate the Woodward Dream Cruise weekend. Tapes of that event are among the most sought after Keener collectibles.
Clear Channel Communications wrote the final chapter in the Keener story. The oligopoly consolidated their Detroit radio facilities at the former A&W Detroit headquarters. The old Keener studios in Dearborn were abandoned and no longer echo with the sound of broadcast excellence.
The end of an era.