By Scott Westerman


One key component of Keener's success was its ability to effectively connect with the Detroit radio audience. Few did the job better than Scott Regen.
Born Robert Bernstein in Brooklyn, Scott was an early devotee of Alan Freed and William B. Williams. He cut his teeth in Tampa, was noticed by Bob Green in Miami and came to Keener from a stint in Kansas City as WHB's hot morning guy.
Scott Regen, more than any other WKNR jock, was able to inculcate himself with his audience and with the artists that served up the vinyl diet demanded by Keener's ravenous listeners. The secret of his success? "I studied my audience so much that I 'became' the product."

Scott with
The Beatles
Click to Enlarge
I first came into contact with Scott when Steve Schram exited Clear Channel. I was looking for support for my contention that Randy Michaels was mistaken in his ejection of my former college room mate and Scott was quick to agree. "Steve understood the Storz / Maclendon philosophy of station-ality," he said. And he should know. Scott Regen was one of its best practitioners.
The ice broken, I took the liberty of forwarding him some of the feedback we had received at keener13.com about how he had impacted life in Motown in the decade when his distinctive voice was heard on WKNR, CKLW, WCAR and WDRQ. He was grateful and suggested we should talk about our favorite underpowered over-performing radio station, and his place in its pantheon.
KEENER13.COM: When did you get your first glimpse into a radio studio?
SCOTT REGEN: William B. Williams used to do a live Saturday show at WNEW, complete with an orchestra and guests. I was 14 at the time and was able to work my way into the studio and watch the program as it happened. It was my first taste of broadcasting. I got to be a regular and hung out whenever I had the chance.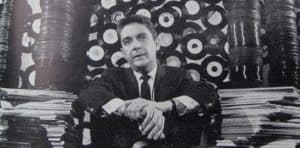 KEENER13.COM: What was classic live radio like in those days?
SCOTT REGEN: There is no feeling like making that connection with an audience. Back then, the studios were huge. The Make Believe Ballroom program had a big chandelier in the studio. I was actually in that studio in the 80s during my record company years. It was the last time I saw William B., still on the air. He was spinning his own records in a corner of that big old studio. "Welcome to the Make Believe Ballroom," is what he said when I came in. In a way, it was sort of a sad scene.
KEENER13.COM: By the time you were in high school, the family had relocated to Tampa, Florida. What was your first job behind the microphone?
SCOTT REGEN: My first job was at WPKM, which played music that was pumped into stores. I used Henri Renee's "You Are the One" which was William B's theme song. The thing I remember about that station was that all the commercials were on five inch reel to reel tapes. After a while, I moved to WALT. Bob Walters put me on the air as "Robert B. the Double, B Bobby B that's me." They were a 50,000 watt day-timer and had an excellent signal that covered a good portion of the state. I did a two hour music program Sundays from 9 till 11 AM. That station played everything on electronic transcription discs. I had four turntables which I used for everything from the music to the commercials.
KEENER13.COM: We've all paid some dues as Sunday board ops on the "God Squad". What was that like at WALT?
SCOTT REGEN: After the music, I ran the board for live church programming. Back then, the churches came to us, complete with speakers and live organ music."
KEENER13.COM: For the next five years, you developed the persona of Rock Robins, plying your wares at WINQ, WLCY in Tampa and WFUN in Miami. How did you select that name?
SCOTT REGEN: Roy Nelson gave it to me. He was the program director at WALT. When he became the PD at WLCY and offered me the job there.
KEENER13.COM: How did your move to Miami come about?
SCOTT REGEN: I got a chance to sub on overnights at WFUN. It went well and became a permanent assignment. The station studios were in Miami Beach, but we were licensed to South Miami and had to do a certain portion of the programming from there, so I had to do my thing from the transmitter site. One of my memories from that time was taping an hour of my show and driving around listening to myself on the air. It was sometimes hard for me to believe that I was actually on the radio in Miami.
KEENER13.COM: It was in Miami where you came to the attention of Bob Green.
SCOTT REGEN: Bob was at WQAM, one of our competitors. QAM was the legendary Storz station that was doing 20 shares with the Top-40 format that Todd and Bill Stewart created after watching the traffic on that bar juke box. There is a great air check of Bob on the air at QAM at reelradio.com.
KEENER13.COM: How did you end up in Kansas City?
SCOTT REGEN: Bob Gordon was the PD at WFUN. He took me along to Cincinnati to be music director. I did a six month gig at WCPO before heading to WHB to do mornings. George Armstrong, who was the number one guy at Storz brought me to Kansas City. WHB was a union shop so I had a board op and could concentrate fully on my presentation.
KEENER13.COM: What lead to the the Keener gig?
SCOTT REGEN: I had heard that Gary Stevens was leaving Keener, so I sent a tape to Bob Green. Bob gave it to Frank Maruca, who didn't like it. Bob called me and said, "Change this and this and this." So I sent a second tape. I didn't have a lot of confidence back then and basically changed the time checks and used the same jokes. I guess that tape was a little better because Bob called me back and said "You're very close.." I made a third tape. By this time the PD at WHB must have thought something was up, because I was saying "its eight minutes past the hour," instead of "It's eight after seven in the morning." He cornered me and asked, "Are you making an audition tape?" The third tape was the charm. I got this call one day from Bob, who said "You got the job! Frank Maruca will be calling you in ten seconds, call me afterwards." Frank called me. He had this mellow voice… "Robert….. This is Frank Maruca," very slow and quiet.
KEENER13.COM: And then you rode your skateboard to Dearborn.
SCOTT REGEN: That was an interesting promotion. It was the peak of the skateboard craze and Bob Green and Frank Maruca thought it would be fun to have me ride a skateboard into Detroit. I had never been on a skateboard and was terrified. We settled on a "Skateboard Report" idea involving a series of reports on my travels from Kansas City to Detroit. I created a character called Webley Wigglesworth portrayed by my WHB PD Ross Jay. Webley gave a play-by-play of my skateboard trip.
KEENER13.COM: Steve Schram is one of the many Scott Regen fans who cherishes his Keener Rinky Dink Skateboard as one of his prized possessions.
SCOTT REGEN: We had a contest to guess how many skateboards I used up on my trip. There were hundreds of entries and it even generated some airplay for a record called "The Skatebaord Song". The winner received one of those customized Keener skateboards
KEENER13.COM: You abandoned the Rock Robins moniker when you came to Keener. Why the new name?
SCOTT REGEN: Robin Seymour was still a popular personality in Detroit. He had the Keener connection, being on the air at WKMH and at the start of the WKNR era. So we decided that Rock Robbins wouldn't be a good fit. I settled on Scott because it worked well either formally or informally as "Scotty". Then, we grabbed a phone book and started thumbing through the pages looking for a last name that sounded good. When I came across Regan it clicked.
KEENER13.COM: Regan with an "a" at the end?
SCOTT REGEN: Yeah. Somehow it got changed to an "e" early on. Either way is fine.
KEENER13.COM: How did you make the psychological transition from the morning show mindset?
SCOTT REGEN: For the first few weeks I basically did a morning show at night. The whole feeling of a night time show was markedly different from the morning routine I was used to and I started searching for the right way to connect with the nighttime listeners. There was a bar on Michigan Avenue, probably still there, called Millers. I would stop in there and try to imagine talking to the clientele, one to one. That seemed to give me the right mood.
KEENER13.COM: So you were into market research before market research was cool.
SCOTT REGEN: I went to schools during lunch hour and listened to what the kids were talking about… things that were going on in their lives and the music they liked. Frank Maruca gave me a lot of latitude and I played those songs on the air. I also sought out places where kids hung out. I remember stopping in at a drive-in one night. Nearly every radio in the place was listening to Keener and J. Michael Wilson. He played the Troggs "Wild Thing" and the place started hopping. The next night I played that song four times in a row.
KEENER13.COM: Listening to those early Scott Regan air checks gives the impression you were an instant success in Detroit.
SCOTT REGEN: I still had some doubts. After I was at Keener for about three months, Ken Draper called and asked me to do evenings on WCFL. I went into Chicago and met with him, but didn't go. I wanted time to develop my skills… and my confidence.
BOB GREEN: I recall a discussion with Frank Maruca just before Scott came to take over the night show, about how the new night guy should really "get involved" with some of the local artists. We never dreamed that it could be done so incredibly well…but Scott had what it took. Scott, like Johnny Carson, was there to make those around him look good…and in the process people understood how good HE was. So many DJs tried to "do one better" with zingers etc… but Scott just let his natural enthusiasm and interest guide his presentation.
KEENER13.COM: You seemed to have a natural connection with the artists who were creating the hits. What was it about your style that made everybody who was anybody want to be interviewed by Scott Regen when they came to Detroit?
SCOTT REGEN: I always thought of myself as a conduit between the artists and the listening audience. And I loved music, so I could get past the celebrity aspect and ask them questions about how they created their work.
KEENER13.COM: How did you make your connection with Motown?
SCOTT REGEN: Irv Beagle was head of promotions at Motown at the time. I called and got an appointment to see him and he arranged for me to meet the Supremes. I hit it off with them and since I had some popularity, they were nice to me. I started going to Motown with regularity and had the chance to meet most of the great Motown artists: Marvin Gaye, Brian and Eddie Holland, Lamont Dozier, the Temptations, the Four Tops. I got to know them and started going to recording sessions. I sat in on the Temptations Masterpiece sessions and was there when Edwin Starr recorded "War".
KEENER13.COM: I own a 45 with a Scott Regen writing credit on it. How did that happen?
SCOTT REGEN: One night I was there when Chris Clark was recording. Barry Gordy told me that they needed a third verse for the song and I came up with something that they liked. Chris Clark was a Motown executive for many years and won an academy award nomination for co-writing Lady Sings the Blues. I also got to produce a song the Four Tops recorded called Yesterday and You.
KEENER13.COM: Motown seemed to have an output that was consistently outstanding in the 60s. What was their secret?
SCOTT REGEN: Barry Gordy was always focused on that issue. At one point, he decided that he wanted to set up a quality control group to listen to everything that came out of the Motown studios. The group included Billy Jean Thompson, Holland, Dozier Holland and others. Barry asked me to be a part of it. I would listen to a track and give my feedback on what might make it better. Harry Wenger, Motown's current archivist says that there is a document at the old Hitsville building in Detroit with my name on it. I'd love to see it.
KEENER13.COM: With so much genius floating around at Motown, did anyone in particular stand out?
SCOTT REGEN: Motown had a stable of fantastic session people. The world knows about Smokey Robinson's greatness but one guy who stood out for me was Norman Whitfield. He was an extraordinary guy. He knew what he wanted down to the last detail and could see the finished product in his mind. When the acts came in, background tracks were done and he knew exactly what he wanted from the singers. I remember watching him at the piano playing the intro to the Guess Who's "American Woman". He had an idea that the bass line might work for a song he was thinking of. That turned out to be the Temps' "Ball of Confusion."
KEENER13.COM: In 1966, you hosted an historic series of live broadcasts from the Roostertail. What was the genesis of "Motown Monday"?
SCOTT REGEN: Motown was my second home. I hung out there whenever I could. I really had no self serving motives, I just loved the place. I became friends with Bernie Ales who was Motown's sales director. He presented the Motown Monday Idea. I remember him telling me that there would be no money involved for me. My feeling was, "Are you kidding? I'll do this for free." We did the broadcasts from the Roostertail in downtown Detroit. All the Motown stars were there. It turned out to be a memorable series.
KEENER13.COM: Although it was a relatively brief run, a lot of people remember Motown Mondays'. What were the technical elements that contributed to Motown's magic?
SCOTT REGEN: I think the show ran only six weeks, but Motown gave it the full production treatment. One of my most vivid Motown memories was visiting the mastering room at Hitsville. An important aspect of the Motown Sound was the way that they processed and compressed the music to give it that special Motown punch. All of that happened in the mastering room. I knew Lawrence Horn, one of the great Motown sound engineers and he got Barry Gordy's permission to let me see the place.
KEENER13.COM: What was the genesis of  your special rapport with the Beatles?
SCOTT REGEN: Larry Kane, the legendary news anchor at KYW in Philadelphia, was one of my mentors. He hired me at WFUN in Miami and became a top news guy at WFIL. Somehow, he ended up being one of the only journalists allowed on the Beatles tour. When the group played Olympia in '66, he arranged for me to have 20 minutes alone with the band.
KEENER13.COM: What were your impressions?
SCOTT REGEN: John Lennon was a sincere, real person, very connected. He was totally focused on me when we talked. I asked several questions about the technical aspects of their music and I remember him telling Paul, "Hey mate, here's a guy who actually listens to our records." Paul was warm and receptive, a nice guy. I could feel that magical connection that the group made with so many people around the world.
KEENER13.COM: A the height of your popularity you were writing a teen column in the Detroit News, wrote album liner notes for the Four Tops and owned monster ratings. That must have made you a prime target for the competition. Some have said that you were the prime reason that WXYZ hired Joey Reynolds.
SCOTT REGEN: We heard that their goal was to target our audience, so I paid pretty close attention to what Joey was doing. One night, we heard that he planned to call me while he was on the air. My assistant Vaughn and I worked out how we would respond. We knew when he was going to call so we kept the lines clear so he could get through. That in itself was no easy task since we were usually jammed with listener requests every night. Vaughn answered and Joey said that he was calling from WXYZ. Vaughn said, "I know about WXYZ, but I've never heard of you. Hold on a second." We kept him on hold… your worst nightmare when you are live on the air with a caller. Then Vaughn came back and said, "I'm sorry we had to put you on hold, we have a lot of callers trying to get trough. Would you like to make a request?"
KEENER13.COM: Many disk jockeys have made a career out of being more important than the music they play. How did you avoid that?
SCOTT REGEN: I never bought into that philosophy. I always tried to put myself in the mind of the listener and never wanted to get in the way of the music. I think that paid off in our great relationship with the record companies and we often got the new releases first. When Capitol released Hello-Goodbye, they gave me an exclusive. I played the song eight times in a row.
KEENER13.COM: What precipitated the move to CKLW?
SCOTT REGEN: I remember hearing about what Bill Drake was doing with KHJ and telling Frank Maruca that if they brought that format to Detroit, Keener was vulnerable. I was the last of the original Keener guys to get the boot. Paul Cannon told me that they were looking for a CK sounding guy and that same night I called Paul Drew. We worked out a deal and I ended up with the 9 PM to 1 AM shift. The night I started on the air, I called Paul Cannon at home about ten minutes before I was supposed to go on. "Remember what you said about wanting a CK sounding guy?" I said. "Well turn your radio to the big eight in about ten minutes and see who their new CK guy is."
KEENER13.COM: Were you able to fit into the tighter confines of the Drake format?
SCOTT REGEN: I did it, but was never really comfortable with it. Part of what made Keener work was the flexibility we had to mix our personalities with the music. It was much harder to do that at CKLW.
KEENER13.COM: Bob Green brought you back to our side of the Detroit River in 1971. What stops dit you make in between?
SCOTT REGEN: After CKLW, I worked in Detroit at WCAR and WDRQ. And came back for Keener's last attempt at top-40.

Scott with
Marlo Thomas
KEENER13.COM: And after that you went to work for ALSAC.
SCOTT REGEN: I had been close to the ALSAC organization for some time and ended up working for them for three years before getting into the music business. I worked for ATCO for eight years and then got into advertising and marketing in New York. My firm had a variety of clients including the Tourneau watch company. I used the same research methods I used at Keener to help craft their media messages.
KEENER13.COM: And today.. (2001)
SCOTT REGEN: I manage national accounts out of New York for the Chicago Sun Times. I had done some work with New York Newsday in between adventures in the agency world and it was a natural transition.
KEENER13.COM: What's your take on satellite radio?
SCOTT REGEN: They are playing a lot of music that doesn't get much exposure these days. The personality focus is not the same as it was during the Keener years. Dave Logan, who was the VP of Operations at XM when they launched, reminded me that we had met when I was doing a brief stint at WWCK in Flint…
DAVE LOGAN: I was a senior at MSU and just getting hired to do weekends on WWCK. Scott was departing as the night guy so they told me to come in and get some tips from him. Since I'd grown up with Keener, I looked forward to meeting Scottie Burger. When I arrived in the studio, I found a subdued Scott deeply engrossed in Alan Ginsburg's "HOWL" with music barely audible in the studio speakers. Every couple minutes, the song would fade and Scott would set the book softly on the counter, do a quick break, and promptly return to the weighty tome. "How do you do a show while reading a book?" I asked. "Easy," said Scott. "Just keep the monitor low." Fond memories indeed.
SCOTT REGEN: I was wearing cut-offs, no shoes, no shirt. A little more casual than Detroit.
KEENER13.COM: Do you miss being on the air?
SCOTT REGEN: I would love to get back on the air if the situation were right.
And it happened, albeit all too briefly. Scott Regen returned to the Detroit airwaves in 2003 when Keener13.com produced a two day broadcast on the old 1310 AM frequency for the Woodward Dream Cruise. Scott reminisced with Pat St. John and Johnny Williams, read his poetry, and played some of the rare recordings of his favorite shows. It was a different presentation than the high energy broadcasts of his Keener prime, but his connection with the listeners was still there. We were flooded with grateful email after the show.

Scott Regen on Keener – 1966


Motown Monday


Scott Regen tells the Story of the Burger Club 1.3MB MP3 ]