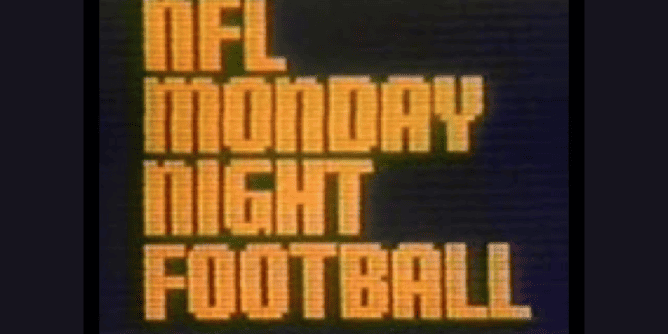 Notable:
Happy 53rd  birthday, "Monday Night Football". Tonight in 1970, the now iconic NFL broadcast premiered on ABC – The Browns beat the Jets 31/21.
Are you tracking your sleep? Apps and devices to monitor biometrics are becoming ubiquitous, including a Pokemon version. "High-achieving sleepers playing over a few nights might see a "shiny" Pokémon appear on their app—a rare treat with no tangible in-game value besides bragging rights." (WSJ)
Are these institutions worried about declining enrollment? Ten of Michigan's 15 public universities will automatically admit high school graduates with a 3.0 or higher GPA.  The universities include Central Michigan, Eastern Michigan, Ferris State, Lake Superior State, Northern Michigan, Oakland, Saginaw Valley State, University of Michigan-Dearborn, University of Michigan-Flint, and Wayne State. (Michigan Radio)
Today in History:
1962 – The Springfields' track "Silver Threads and Golden Needles" became the first British record to enter the US Top 20. The vocal ensemble consisted of Tim Field, Tom Springfield, and Tom's sister, Dusty. Dusty Springfield would go on to enjoy significant success, with eleven Billboard Top 40 hits of her own, including "I Only Want To Be With You" (reaching #12 in 1964), "Wishin' And Hopin'" (hitting #6 in 1964), and "You Don't Have To Say You Love Me" (peaking at #4 in 1966).
1963 – Trini Lopez's "If I Had A Hammer" reaches #3 on the Billboard Pop chart. The 33 year-old singer will go on to have three more Top 40 hits and co-star in the Oscar winning film The Dirty Dozen in 1967.
1968 – The Grass Roots' "Midnight Confessions" enters the Hot 100 headed toward the #5 spot. It will become the band's most successful record.
1968 – Janis Joplin announces that she is leaving Big Brother And The Holding Company at the end of the year. Janis will later be backed by The Kozmic Blues Band.
1968 – Jeannie C. Riley's "Harper Valley P.T.A." becomes a rare country single to top the pop charts. It sells over 1,750,000 copies in the first two weeks of release.
1968 – Jimi Hendrix's only Top 40 hit, "All Along the Watchtower" is released peaking at number 20.
1968 – "Adam-12" starring Martin Milner and Kent McCord debuts on NBC.
1974 – Bachman-Turner Overdrive release "You Ain't Seen Nothin' Yet", their third US chart appearance and the the Canadian band's only number one.
1974 – Barry White scores his first number one and second of five Top Ten singles with "Can't Get Enough Of Your Love, Babe".
1976 – By 1976, The Bee Gees' had released 20 LPs. The newest, "Children of the World", goes Gold. "You Should Be Dancing" (#1) and "Love So Right" (#3) are the two hit singles from the album.
1980 – Elton John leaves MCA, signing a 6-year contract with David Geffen's new label.
1992 – "ABBA Gold" becomes one of the best selling albums of all time. The a collection of the Swedish group's greatest hits sells over 30 million copies worldwide.
Today's Birthdays:
1931 – Larry Hagman (I Dream of Jeannie, JR-Dallas), born in Fort Worth, Texas. (d. 2012)
1935 – Henry Gibson, actor and comedian (Nashville, Laugh-In's poet), born in Germantown, Philadelphia (d. 2009)
1943 – Jerry Bruckheimer, film and television producer (Flashdance; Top Gun; Pirates of the Caribbean; CSI0 and NHL team owner (Seattle Kraken), born in Detroit.
1944 – Fannie Flagg, actress, comedienne, and author (Fried Green Tomatoes), born in Birmingham, Alabama.
1947 – Don Felder, rock guitarist and songwriter (The Eagles, 1974-2001 – "Hotel California"), born in Gainesville, Florida.
1947 – Stephen King, sci-fi and horror author (Carrie; The Shining; Kujo; Misery), born in Portland, Maine.
1950 – Bill Murray, actor and comedian (Saturday Night Live; Stripes; Ghostbusters), born in Evanston, Illinois.
1957 – Ethan Coen, filmmaker (Fargo, No Country for Old Men), born in St. Louis Park, Minnesota.
1959 – Dave Coulier, actor (Joey Gladstone-Full House), born in Detroit.
1962 – Rob Morrow, actor (Northern Exposure – "Dr Fleishman'; Numb3rs "Agent Eppes"), born in New Rochelle, New York.
1963 – Cecil Fielder, Abaseball infielder (3 x MLB All Star, 2 x AL HR leader, Detroit Tigers; World Series 1996 Atlanta Braves), born in Los Angeles, California.