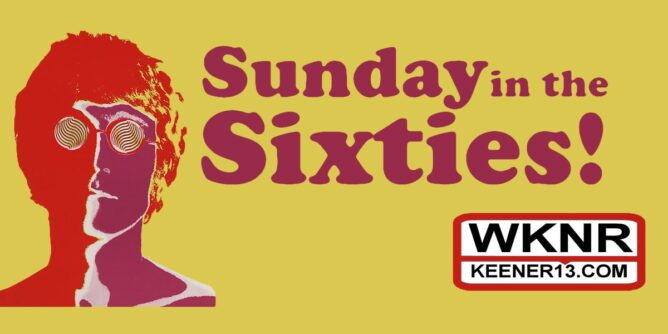 It's another Sunday in the 60s on Keener. All 60s, all day, spiced with your requests from the huge Keener music library. "Alexa, Launch Keener Thirteen," on your Amazon devices. Grab our apps for iOS and Android, or click the player on this page. You're still the center of our universe!
Today in History:
1957 – "Jailhouse Rock" is released. It will become Elvis' ninth US number one single and stay on the Billboard chart for nineteen weeks. The film clip from the movie where he sang the song is often considered to be the first Rock video.
1966 – The Association hits No. 1 with "Cherish". Released in August, it became a million seller in two months, holding down the top of the US Pop charts for nearly a month. In 1969, it ranked as No. 1 on the WKNR Leading 100 songs of all time.
1966 – The Beatles' "Eleanor Rigby" peaks at No. 11 on the Hot 100. It was the first release where none of the group members played musical instruments. John and George lent their voices to provide harmonious vocals. Although the majority of the song's composition is attributed to Paul, it was Ringo who contributed the memorable line, "Writing the words of a sermon that no one will hear."
1968 – The Vogues earned a Gold record for "Turn Around Look at Me". It reaches No. 7 on the Billboard Pop chart.
1970 – The Motown imprint, Tamla Records issues "Tears Of A Clown" by Smokey Robinson And The Miracles. It is headed for No. 1 on both the pop and R&B charts.
1977 – This week in 1977, Fleetwood Mac's "Don't Stop" is at No. 3 on the US singles chart, while E.L.O.'s "Telephone Line" lands at No. 7. The Emotions' "Best Of My Love" sits in the top spot.
1979 – The Eagles drop their sixth album, "The Long Run," hitting #1 on the Billboard 200 and reaching #4 in the UK. The title track responds to critics who called the band "passe" in the face of Disco and Punk, with lyrics asking, "Who's gonna make it? We'll see in the long run."