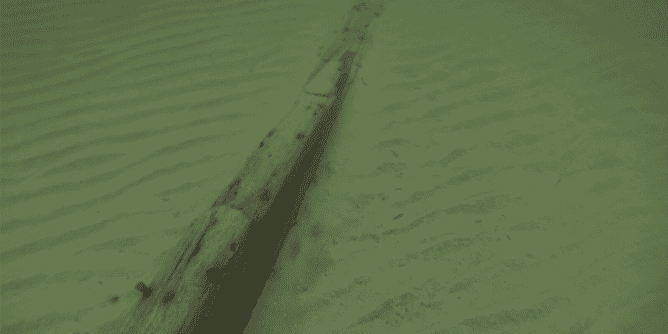 What's Happening Via JJ Duling
A West Michigan couple think they've located a once lost shipwreck in the shallow waters of Lake Michigan. Kevin and Amy Ailes believe the sonar pings they are hearing reveal the Great Lakes Vessel Milwaukee which went down 180 years ago.
---
Bruce Springsteen is a grandpa. The Boss and his wife Patti Scialfa welcomed Lily Harper Springsteen, the daughter of their youngest son, Sam in an Instagram post over the weekend. Sam is a New Jersey firefighter.
---
Ben and Jen finally tied the knot over the weekend. 52 year-old actress Jennifer Lopez and 49 year-old actor Ben Affleck were married in Las Vegas, two decades after they were first planning to walk down the aisle.
---
According to a new study co-funded by the Bill and Melinda Gates foundation, people under the age of 40 start risking their health if they consume any more than two teaspoons of wine or two and a half tablespoons of beer per day. It found that for young adults between the ages of 15 and 39, there are zero health benefits—only risks—associated with drinking alcohol.
---
Last weekend, thousands converged at the Wayne County Fairgrounds in Belleville, Michigan, to celebrate the life and work of Elvis Presley. The Michigan Elvisfest is one of the largest Elvis tribute festivals in North America.
---
Bruce Willis marked 34th anniversary of the film Die Hard by returning to the top of Nakatomi Plaza. He's seen on an Instagram post on the roof of fictional building — Los Angeles' Fox Plaza in real life — as Beethoven's 9th Symphony, which features prominently in the 1988 cinema classic, plays in the background.
---
The New York Yankees say police are investigating what appeared to be a drone spotted flying above right field at Yankee Stadium on Saturday night. Unmanned aircraft are banned from flying over stadiums while games are in progress, but several games in recent seasons have been interrupted by drones.
---
If your Zoom call has 10 participants, a new study says six of them are also shopping. And in the wake of this year's Amazon Prime day, the marketing firm Fluent says 20% of workers confessed that Prime Day shopping made them less productive.
---
U.S. gasoline prices continued their decline for more than 30 consecutive days, a relief for drivers who endured price topping $5 per gallon last month. Gas in Michigan currently averages $4.63 per gallon, about ten cents more than the national average.
---
After a rattlesnake bit a child last month near Flint, focus is returning to Florida, now holding the record for the most invasive species introduced by man. Michigan may have alewifes, but Florida's population of pythons, African Land Snails and Asian Swamp Eels are out of control giving governor Ron DeSantis' state another dubious honor.
---
Anson Williams, who portrayed "Potsie" Weber in the 1970s sitcom Happy Days is running for Mayor of Ojai, California. And he has at least one prominent supporter. The Fonz, Henry Winkler tweeted over the weekend the Potsie, "Has my vote!"
---
This weekend in London, several original cast members from Back to the Future attended a performance of the smash hit west end musical incarnation. Christopher Lloyd (Doc Brown), Claudia Wells (Jennifer Parker in the original film), Donald Fullilove (Mayor Goldie Wilson), Frances Lee McCain (Stella Baines), and Jeffrey Weissman (George McFly in the sequels) joined writer / Producer Bob Gale in the audience. The musical is coming to Broadway in 2023.
---
Keener Birthdays:
1902 Chill Wills (d. 1978)
1906 Clifford Odets (d. 1963)
1909 Harriet Nelson [Peggy Lou Snyder] (d. 1994)
1911 Hume Cronyn (d. 2003)
1913 Red Skelton (d. 1997)
1918 Nelson Mandela (d. 2013)
1921 John Glenn(d. 2016)
1929 Screamin' JayHawkins (d. 2000)
1937 Hunter S. Thompson (d. 2005)
1938 Ian Stewart co-founder of the Rolling Stones (d. 1985)
1938 Paul Verhoeven
1939 Brian Auger
1939 Dion DiMucci
1940 James Brolin
1941 Lonnie Mack (d. 2016)
1941 Martha Reeves
1943 Robin McDonald (Billy J Kramer & The Dakotas)
1945 James William Guercio
1950 Richard Branson
1950 Glenn Hughes (Village People) (d. 2001)
1954 Ricky Skaggs
1961 Elizabeth McGovern
1964 Wendy Williams
1967 Vin Diesel
1979 Jared Hess
1980 Kristen Bell
---
Today in History
1938 Douglas 'Wrong Way' Corrigan arrives in Ireland after a 28 hours flight, supposedly left NY flying for California.
1953 18 year-old Elvis Presley visited the Memphis Recording Service to record 'My Happiness' as a gift for his mother, Gladys. The so-called vanity disc, which cost Presley $3.98, was his first recording. It would surface 37 years later as part of an RCA compilation called 'Elvis – the Great Performances'.
1960 15 year old Brenda Lee had the number one song in the US with 'I'm Sorry', a tune that was recorded in the last ten minutes of a session and originally meant to be the 'B' side of 'That's All You Gotta Do'. The record reached #12 in the UK.
1960 Roy Orbison saw his first record, 'Only The Lonely' climb into the Top 5 in the United States after The Everly Brothers and Elvis both turned the song down. Over the next six years, The Big O would have 22 Top 40 hits.
1964 The Four Seasons scored their fourth US number one hit with 'Rag Doll'. Co-writer Bob Gaudio said that he got the inspiration for the song from a young girl in tattered clothes that cleaned his car windows at a stop light. The song reached #2 in the UK.
1964 The Rolling Stones chart in the US for the first time when a cover of Buddy Holly's 'Not Fade Away' peaks at #48.
1964 The Supremes' 'Where Did Our Love Go?' enters Billboard's Hot 100. It would stay on the chart for 14 weeks and become the group's first number one hit.
1966 Gemini 10 launched (John Young & Michael Collins).
1966 Bobby Fuller, who was still riding high on the success of 'I Fought The Law', was found dead in his car in Hollywood. The incident is ruled a suicide but evidence suggests foul play, as his clothes and lungs contained gasoline. Fuller was just 22 years old.
1968 The Intel Corporation is founded in Santa Clara, California.
1974 The US Justice Department ordered John Lennon out of the country by September 10th. The Immigration and Naturalization Service denied him an extension of his non-immigrant visa because of his guilty plea in England to a 1968 marijuana possession charge. The US Court of Appeal would overturn the deportation order in
1975 and Lennon was granted permanent resident status the following year.
1978 John Travolta and Olivia Newton-John are awarded a Platinum record for their number one hit, 'You're The One That I Want'.
1978 Gerry Rafferty, once a member of Stealers Wheel, earns a Gold record for 'Baker Street', which reached #2 in the US and #3 in the UK.
1980 Billy Joel's 'Glass Houses' album tops US charts, featuring 'Its Still Rock 'n' Roll to Me'
1983 Abbey Road Studios in London is opened to the public, making it one of the city's most popular tourist attractions.
1986 Videotapes released showing Titanic's sunken remains
1988 Ike Turner was sentenced in Santa Monica, California to one year in jail for possessing and transporting cocaine. Police had stopped Turner, former husband of Tina Turner, in August 1987 for driving erratically and found about six grams of rock cocaine in his car.
1988 A California appeals court upholds a lower court's decision to dismiss a case against Ozzy Osbourne and CBS Records. In 1984 a teenager allegedly killed himself after listening to Ozzy's 'Suicide Solution'.
1992 800 guests saw Whitney Houston, dressed in a $40,000 Marc Bouwer wedding gown, marry Bobby Brown at her New Jersey home. Those in attendance included Stevie Wonder, Gloria Estefan, Natalie Cole, Patti LaBelle and Freddie Jackson. After years of making tabloid headlines, she would file for divorce in September, 2006.
1994 'Kiss From a Rose' released by Seal (Grammy Record and Song of the Year)
2001 The Kiss Kasket, an actual coffin featuring the faces of the four founding members of the band, went on sale. Also included were the Kiss logo and the words 'Kiss Forever.' Endorsing the item, Gene Simmons quipped, 'I love livin', but this makes the alternative look pretty damn good.'
2002 The Rolling Stones crew chief, 54 year old Royden Magee, who had worked with the band for 30 years, died during a rehearsal in Toronto. A spokesman for the band said Magee had said that he wasn't feeling well and went to another room to take a nap. The Stones had just finished dinner and resumed rehearsing when they got word that Magee had collapsed and stopped breathing. He was taken by ambulance to nearby Sunnybrook Hospital with no vital signs after suffering an apparent heart attack. He was pronounced dead on arrival. The members of the band said they were devastated by his death.
2008 Paul Simon filed a law suit against Rhythm USA Inc., a Georgia-based subsidiary of a Japanese firm, claiming the company never got his permission to sell wall clocks that play 'Bridge Over Troubled Water'. The suit claimed that as one of the best known songs throughout the world, a proper licensing agreement could command at least a $1 million licensing fee.
2013 Detroit, Michigan, files for bankruptcy, becoming the largest US municipal bankruptcy ever at $18.5 billion.
2017 Red West, a boyhood friend and member of Elvis Presley's 'Memphis Mafia', passed away at the age of 81 after suffering an aortic aneurysm. West appeared in many of the singer's movies as well as in Road House, Black Sheep Squadron and Goodbye Solo.
---
This weekend in 1964 The Four Tops, led by Levi Stubbs released their first smash hit single "Baby I Need Your Loving." The Holland/Dozier/Holland was a national hit, peaking at number 3 on Keener.