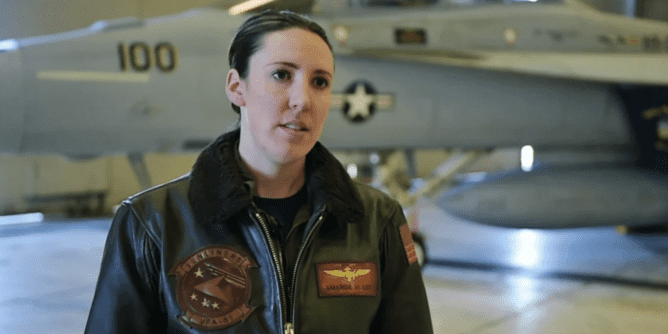 What's happening, Via JJ Duling
NBC reports that for the first time in its 76-year history, the Navy's famed Blue Angels aerial demonstration team will feature a female pilot. Lt. Amanda Lee will join the demonstration team in the fall. The Mounds View, Minnesota native currently performs with The Gladiator demonstration team in Strike Fighter Squadron 106, stationed at Naval Air Station Oceana in Virginia Beach, Va.
---
As we mentioned yesterday, Bruce Willis returned the rooftop of Fox Plaza in Century City, Los Angeles ? aka Nakatomi Plaza, the setting for "Die Hard," released this week in 1988. Here's the Instagram clip his wife, Emma Heming Willis posted. Although Bruce is officially retired, several previously completed projects are in the pipeline, including "Paradise City," reunites him with "Pulp Fiction" co-star John Travolta.
---
The Beatles continue to be the masters of repackaging. A blu-ray version of the 8-hour Peter Jackson film Get Back, which aired recently on Disney+ is now available in a three-disc set. While there are no DVD only extras, hard core Fab Four fans will likely add this one to their collections.
---
Expect Michigan gas prices to continue to decline. Administration official, Amos Hochstein told CBS's Face the Nation that an average $4.00 per gallon pump price is likely on it's way. The fastest wartime price decline in history began last month with the most common pump rate in the nation now hovering at $3.99.
---
After another day of record highs is forecast across the nation, the Mid-Atlantic and Northeast will see several consecutive days with high temps topping off in the 90s. Today, storms will be possible across the northern Plains and Upper Midwest with thunder appearing in the northern Great Lakes region.
---
From our "Creative Branding" file, The heavy metal band, Metallica, is investing in Grand Rapids Community College's welding program for a fourth year in a row to help non-traditional students gain hands-on career training in welding. GRCC received a $10,000 grant from the band this year through Metallica's All Within My Hands Foundation, which has invested a total of $185,000 in the community college.
---
Keener Birthdays:
1865 Charles Horace Mayo, American surgeon, cofounder of Mayo Clinic.
1922 George McGovern, (D-Sen-SD), presidential candidate
1924 Pat Hingle (Batman Films)
1930 Preston Epps
1941 Vicki Carr
1943 Dennis Cole, actor
1944 Commander Cody / (George William Frayne IV)
1946 Alan Gorrie (Bass/Vocals Average White Band)
1948 Keith Godchaux (Keyboards/backing vocals for the Grateful Dead)
1952 Allen Collins (Founding member of Lynyrd Skynyrd )
---
Today in History
1913 Billboard publishes earliest known 'Last Week's 10 Best Sellers among Popular Songs' Malinda's Wedding Day is #1.
1930 Richard E. Byrd, Laurence McKinley Gould, and their polar expedition team return to the United States following the first exploration of the interior of Antarctica.
1941 Tom and Jerry first appear under their own names in cartoon The Midnight Snack" by William Hanna and Joseph Barbera"
1954 Sun Records releases the first Elvis Presley single, 'That's All Right', a cover of Arthur Crudup's 1946 tune 'That's All Right, Mama'. Only about 7,000 original copies were pressed, but the disc became a local hit in Memphis. After the session, Bill Black was said to have remarked, 'Damn. Get that on the radio and they'll run us out of town.'
1958 The Coasters have the top selling single in America with 'Yakety Yak'. Featuring the sax solo of King Curtis, the 1 minute, 52 second song also topped the Billboard R&B chart for seven weeks.
1961 1st in-flight movie shown on TWA.
1963 Frank Ifield had the #1 single on the UK chart with 'Confessin', his fourth and final chart topper.
1965 Shooting begins on Star Trek 2nd pilot 'Where No Man Has Gone Before'.
1966 51 year old Frank Sinatra marries 21 year old actress Mia Farrow. It was his third marriage, her first. Two years later, while Farrow was filming Roman Polanski's Rosemary's Baby, Sinatra sent his lawyer to the movie set to inform his wife that he was filing for divorce.
1966 Johnny Rivers begins recording 'Poor Side Of Town', which will become the tenth of his seventeen US Top 40 hits and his only number one.
1966 The Monkees record the theme song to their TV show, which will begin airing next Fall. Although the tune appeared as an album track on their self-titled debut LP and got some AM radio play, it was not released as a single.
1969 Apollo 11 goes into Moon orbit.
1969 The Spencer Davis Group announces their break-up. The band had reached the Billboard chart twice in 1967 with 'Gimme Some Lovin' (#7) and 'I'm A Man' (#10) and placed ten songs on the UK charts, including two number one hits, 'Keep On Running' and 'Somebody Help Me'.
1969 The Rolling Stones' 'Honky Tonk Women' is released in the US, where it will become the fifth of their eight Billboard number one hits.
1975 The Bay City Rollers were at the top of the UK singles chart with 'Give A Little Love', the group's second and final UK #1.
1975 Paul McCartney scores his fourth, post-Beatles chart topper in the US with 'Listen To What The Man Said'. It was a recording that Macca was very disappointed in until Tom Scott added his outstanding soprano saxophone solo. The record would go on to sell a million copies in America and reach #6 in the UK.
1975 Orleans' 'Dance With Me' is released. It would go on to climb to number six on Billboard's Hot 100 and has since been played on the radio over four million times.
1976 Deep Purple announced that at the end of their current tour, they were splitting up. They would reform in 1984.
1980 David Bowie appears in role of 'Elephant Man' in Denver.
1980 Queen enjoy their third UK #1 album with 'The Game', which featured the singles 'Another One Bites The Dust' and 'Crazy Little Thing Called Love'. Both of those releases topped the Billboard Hot 100 in America and the LP went on to sell over four million copies.
1980 With ten Billboard Top 40 hits already to his credit, Billy Joel reaches number one for the first time with 'It's Still Rock And Roll To Me'. The song would spend eleven weeks in the the Top Ten and would go on to sell over two million copies in the United States.
1984 1st female to captain a 747 across Atlantic (Lynn Rippelmeyer) / Geraldine Ferraro wins the Democratic Vice Presidential Nomination.
1987 Bruce Springsteen played his first ever show behind the Iron Curtain when he appeared in East Berlin in front of 180,000 people. The show was broadcast on East German TV.
1989 James Brown was moved to a medium security cell at the Stevenson Correctional Institute after $40,000 in cash and cheques was discovered in his minimum security cell. The Godfather of Soul was serving a six year sentence for a variety of offences that included illegal gun possession, resisting arrest, assault and leading the authorities on a number of car chases. He was paroled in 1990 after serving two years.
1995 Elvis Presley's former doctor, Dr. George Nichopoulous, loses his medical license for being 'too liberal' in prescribing addictive drugs. Nichopoulos called the decision 'idiotic' and suggested it stemmed from resentment over Presley's death in 1977.
2004 Mark Tulin and James Lowe, two original members of The Electric Prunes, filed lawsuits against their record label and music publisher, alleging that the companies failed to pay them $1 million in royalties.
2007 TV drama 'Mad Men' debuts starring Jon Hamm, Elisabeth Moss and Vincent Kartheiser on cable network AMC.
2007 US sales figures were released that showed CD sales falling a further 11.7% since last year. In contrast, vinyl record collectors pushed the demand for 78 RPM platters up by 12.9%.
2010 Ozzy Osbourne and his former Black Sabbath band mate Tony Iommi settled a long-running legal dispute over the use of the group's name. Ozzy had filed suit against the guitarist in May of last year, accusing Iommi of falsely proclaiming to be the sole owner of the Black Sabbath name by lodging an application with the US Patent and Trademark Office. The pair released a joint statement confirming they have settled the dispute 'amicably'.
2011 'Captain America: The First Avenger', directed by Joe Johnston, starring Chris Evans and Hayley Atwell, premieres in Los Angeles.