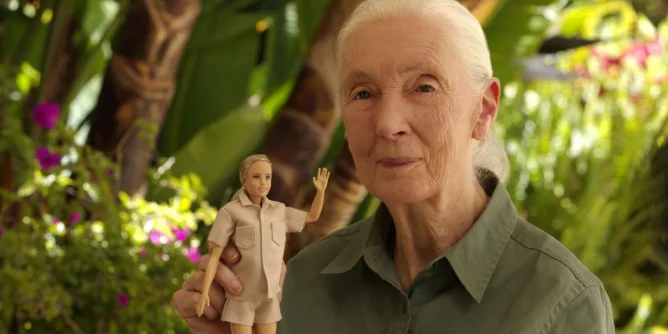 What's Happening via JJ Duling
Barbie is going green with a new doll modeled after Dr. Jane Goodall.
Launched Tuesday, ahead of World Chimpanzee Day
, the Goodall Barbie is made of 90 percent recycled plastic that otherwise would have been bound for the ocean. The 88-year-old researcher told PEOPLE magazine she is "absolutely delighted" and hopes her Barbie will " inspire little girls" everywhere.
---
Will watching Disney movies full of princesses with ridiculous body proportions harm your daughter?
Probably not, writes Emily Oster in
ParentData
.
One randomized controlled trial
of young girls found that princess media exposure had no effect on body image. In sum, Oster writes, "I do not see anything in the data that would suggest your child will be less successful if they like Disney princesses, although we'd likely do well to remind them as they age into puberty that princess proportions are not for people." [
ParentData
]
---
When you find yourselves in the wedding license line with Ben and JLo
: As Airika and Demetrius Visaya prepared to get married in Las Vegas on Saturday, they found themselves standing next to Jennifer Lopez and Ben Affleck. People magazine reports JLo gave the couple a shoutout in her
On the JLo
newsletter announcing the famous couple's
wedding news
.
---
For some New Yorkers, 2022 is becoming the summer of Jaws. Several City beaches have been closed for swimming until further notice following multiple shark sightings, including one which apparently collided with an unsuspecting swimmer.
---
The Norvax Covid 19 vaccine has won C.D.C. Approval,  joining Moderna, Pfizer and others in the world's Coronavirus toolbox. The F.D.A. authorized the vax as a primary immunization for adults last week. The C.D.C.'s full approval is the shot's last regulatory hurdle.
---
---
The guitarist Paul admires
: 1984 film
Give My Regards to Broad Street,
may not be among Paul McCartney's most memorable creations. But
David Gilmour
's solo on
No More Lonely Nights
earned an artist little known outside of  guitar circles. "I've known him since the early days of Pink Floyd," McCartney recalled
in the new book, The Lyrics: 1956 to the Present
. "Dave is a genius.."
---
The London heat got to Google on Tuesday. A status page for Google Cloud said that a "cooling related failure" occurred in one of its buildings, starting at 10:13 PDT, but that the impact wasn't large scale. The issue affected one of London's three Google Cloud data center zones.
---
Elton says it's truly the end of the line. "I can tell you now that this is it," he shared during an interview with the British publication MusicWeek. "I will not be devoid of music, but as far as schlepping around the world doing shows, I don't want to do it anymore. I've done it since I was 17."
---
How do we create more stability in our emotional lives? The Greater Good Science Center's Kira Newman writes having a purpose and a dedication to selfless service can help us navigate stormy seas. Studies also indicate people who experience a variety of different types of emotions, including negative ones—are actually healthier and less depressed.
---
Is boredom good for you? Maybe so. A new study says filling our brains with the contents of our screens saps creativity and original thinking. Axios reports researchers at the Academy of Management Discoveries found that boredom fires our creative impulses. When we're bored we seek novelty. Our minds wander and we think of new things to try.
---
Here's an economic indicator. More people are visiting pawn shops. Denny Russell has owned National Pawn in Kansas City, Missouri, for 22 years. He said he has a consistent customer base but recently more new customers are showing up. "People are borrowing more," he says. Sales are down, but new inventory is up.
---
Keener Birthdays:
1919 Sir Edmund Hillary, one of 1st two men to scale Mt. Everest.
1933 Nelson Doubleday, Publisher
1938 Diana Rigg (Mrs. Peele in The Avengers).
1938 Natalie Wood (West Side Story)
1943 Tony Joe White ("Polk Salad Annie," #8, 1969)
1943 Dennis Yost (The Classics IV -"Spooky," #3, 1967 and "Stormy," #5, 1968)
1945 John Lodge(Bass and vocals, The Moody Blues, "Nights In White Satin," #2, 1967 and "Your Wildest Dreams," #9, 1986)
1946 Kim Carnes (Bette Davis' Eyes," #1, 1981)
1947 Carlos Santana ("Black Magic Woman" #4, 1970, "Smooth" #1, 1999)
1957 Donna Dixon (Wayne's World)
---
Today in History:
1859 Teams from Brooklyn and New York played baseball at Fashion Park Race Course on Long Island. It cost 50 cents to get in, the first time admission was charged to see a ball game. Players did not begin to receive salaries for their efforts until four years later.
1868 Legislation was passed that ordered U.S. tax stamps to be placed on all cigarette packs.
1923 Retired Mexican Revolutionary General José Doroteo Arango Arámbula, nicknamed Pancho Villa, was killed in a hail of bullets fired by a team of assassins at age 45.
1935 NBC Radio debuted 'G-men,' renamed 'Gangbusters' in January 1936 when it moved to CBS. The series ran for 21 years.
1937 Inventor Guglielmo Marconi, often credited as being the inventor of radio, died after a series of heart attacks at age 63.
1940 Billboard's first Music Popularity Chart was published. The magazine's practice had been to print best-seller lists submitted by individual record companies, but the new chart combined top sellers from all major labels. The first #1 song on the Music Popularity Chart was 'I'll Never Smile Again' by Tommy Dorsey & His Orchestra featuring vocalist Frank Sinatra.
1942 The first detachment of the U.S. Women's Army Auxiliary Corps (WAAC) began basic training at Fort Des Moines, Iowa. In 1943, that branch of the military service was converted to full status as the Women's Army Corps (WAC).
1944 At the Democratic National Convention in Chicago, U.S. President Franklin D. Roosevelt was nominated for an unprecedented fourth term.
1944 A group of German officials attempted to assassinate Adolf Hitler, but failed when their bomb exploded at Hitler's Rastenburg headquarters and left him only wounded.
1950 'The Arthur Murray Party,' hosted by husband-and-wife dancers Arthur and Kathryn Murray, premiered on ABC-TV and eventually aired on all four commercial TV networks during its 10-year run.
1954 Elvis Presley, Scotty Moore, and Bill Black performed as the Blue Moon Boys outside on a flatbed truck at the grand opening of a Memphis drugstore. They took the group name from their recording of 'Blue Moon of Kentucky' which had been recently released.
1961 The Leslie Bricusse-Anthony Newley musical 'Stop the World, I Want to Get Off' premiered in London. It went to Broadway the following year.
1961 Gladys Knight & the Pips appeared on ABC-TV's 'American Bandstand.'
1961 At United Recording in Hollywood, Ricky Nelson recorded 'Everlovin" and 'A Wonder Like You' with new backup singers Dave Burgess, Jerry Fuller and Glen Campbell.
1961 The British music trade paper Mersey Beat announced that the Beatles, then known as the Beat Brothers, had signed their first recording contract with highly-regarded German producer Bert Kaempfert.
1963 Lesley Gore released her second single, 'Judy's Turn To Cry.'
1964 The Beatles released the single 'And I Love Her' b/w 'If I Fell' in North America.
1964 The Beatles released the album 'Something New.'
1965 Frank Sinatra left his handprints in cement outside Grauman's Chinese Theatre in Hollywood.
1965 ABC-TV's weekday afternoon music series 'Where The Action Is' featured the Crystals and the Newbeats along with show regulars Steve Alaimo and Paul Revere And The Raiders.
1965 Bob Dylan released the single 'Like a Rolling Stone.'
1966 ABC-TV's 'Where The Action Is' welcomed guest performers Chad & Jeremy.
1968 At Soldier Field in Chicago, the first international Special Olympics Summer Games were held, with approximately one thousand disabled athletes participating.
1968 Aware of Paul McCartney's various affairs, his fiancé Jane Asher announced on the BBC-TV program 'Dee Time' that she had broken off her engagement with the Beatle. Paul, watching the show at a friend's home, was reportedly surprised by the news. She was said to have inspired many of McCartney's songs, such as 'All My Loving,' 'And I Love Her,' 'I'm Looking Through You,' 'You Won't See Me,' 'We Can Work It Out,' 'Here, There and Everywhere,' and 'For No One.' Asher went on to have a career in films and television, then became a successful businesswoman and author.
1968 Joe Tex and Steppenwolf were guest performers on ABC-TV's 'American Bandstand.
1969 Six and a half hours after landing, astronaut Neil Armstrong, mission commander of the U.S. Apollo 11 spacecraft, made the first footsteps on the surface of Earth's moon at 10:56 p.m. EDT. He described the event as 'one small step for [a] man, one giant leap for mankind.' About 20 minutes later, Apollo 11's lunar module pilot, Buzz Aldrin, became the second man to walk on the moon. His first words from the lunar surface were, 'Beautiful view. Magnificent desolation.'
1970 Richard and Karen Carpenter appeared as guest bachelor and bachelorette on ABC-TV's 'The Dating Game.'
1971 'Make Your Own Kind of Music,' a six-week summer variety series hosted by the Carpenters, debuted on NBC-TV. Guests on the first show were Herb Alpert and Mark Lindsay.
1973 Martial arts expert/actor (The Green Hornet, Enter the Dragon, The Way of the Dragon, Fists of Fury) Bruce Lee died of cerebral edema at the age of 32.
1973 Joan Baez hosted 'The Midnight Special' on NBC-TV with guests Wilson Pickett, the Pointer Sisters, Black Oak Arkansas, Bloodstone, Steve Goodman, and Mimi Farina.
1974 Military forces from Turkey invaded northern Cyprus.
1974 David Bowie performed at Madison Square Garden in New York City.
1974 Rufus w/ Chaka Khan and George McCrae appeared on ABC-TV's 'American Bandstand.'
1975 At the Palace Theatre in Providence, Rhode Island, guitarist Steven Van Zandt played for the first time in concert as a member of Bruce Springsteen's E Street Band as they began their Born To Run Tour.
1976 NASA's Viking I robot spacecraft made a successful landing on Mars. Transmission of the first surface image began 25 seconds after landing on the planet and took about 4 minutes to reach Earth. The lander operated until November 1982, when a faulty command sent by ground control resulted in loss of contact.
1978 Willie Nelson's album 'Stardust' was certified Gold.
1979 Suzi Quatro hosted 'The Midnight Special' on NBC-TV with guests Carly Simon, Paul Warren & Explorer, and David Naughton.
1979 The Electric Light Orchestra took out ads dedicating the release of their single 'Don't Bring Me Down' to Skylab, the space station that was about to prematurely re-enter Earth's atmosphere in bits and pieces.
1983 ABC-TV news anchorman Frank Reynolds died of hepatitis-induced liver failure at age 59.
1984 Following the revelation of controversial nude photographs taken of her before she was crowned, Vanessa Williams was asked to resign as Miss America, which she did at a press conference three days later.
1984 Author (The Complete Book of Running) Jim Fixx died after a heart attack at age 52.
1985 Forty miles off the coast of Key West, Florida, treasure hunters began raising $400 million in coins and silver from Nuestra Senora de Atocha, a Spanish galleon that sank there in 1622.
1986 Carlos Santana celebrated his 39th birthday and the 20th anniversary of his band by playing a concert in San Francisco that featured all 17 living members, past and present, of Santana.
1990 Justice William Brennan resigned from the U.S. Supreme Court after 36 years.
1990 On her 57-date Blond Ambition World Tour, Madonna played the first of three sold-out nights at Wembley Stadium in London.
1991 Actors Kirk Cameron and Chelsea Noble, co-stars of the ABC-TV sitcom 'Growing Pains,' were married. They have six children.
1992 Vaclav Havel, the playwright who led his country's 'Velvet Revolution' against communism, resigned as president of Czechoslovakia.
1992 The Reba McEntire album 'For My Broken Heart' was certified Double-Platinum.
1994 O.J. Simpson offered a $500,000 reward for evidence leading to his ex-wife's killer.
2003 A tooth, said to have been taken from Elvis Presley's mouth after an injury, failed to sell on eBay after being put on a 10-day sale with a reserve price of $100,000. Bidding had pushed the price up to $2 million but many of the bids were discovered to be phony.
2005 Canada became the fourth country to permit same-sex marriage.
2005 Actor (Star Trek, Jason of Star Command, Peyton Place, Jigsaw, Bus Riley's Back in Town) James Doohan died of pneumonia at the age of 85.
2007 Tammy Faye Bakker Messner, former co-leader (with then-husband Jim Bakker) of the PTL Club religious group, died of lung and colon cancer at 65.
2007 ABC sportscaster (Wide World of Sports, Today show, WWJ-TV Detroit) Bill Flemming died of prostate cancer at 80.
2009 Jackson Browne announced settlement of his lawsuit against U.S. Senator John McCain and the Republican National Committee after McCain and the RNC apologized for using Browne's 'Running On Empty' without permission in a 2008 McCain presidential campaign ad.
2011 NASA announced that the Hubble Space Telescope had discovered a fourth moon circling the dwarf planet Pluto.
2011 At Christie's auction house in New York City, never-before seen photographs of the Beatles' first U.S. concert sold for almost $362,000. The Fab Four played at the Washington Coliseum in Washington, DC on February 11, 1964, two days after their American TV debut on 'The Ed Sullivan Show.'