Artemis I finally blasted off into space early this morning. The unmanned NASA vehicle may, one day, send astronauts to the Moon for the first time since the end of the Apollo program in the 1970s.
Want to check out the Grammy contenders? We've got the list here.
Where to expect the rain and snow in Metro Detroit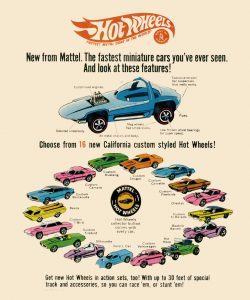 Who is the world's biggest automaker? Not General Motors. Not the Mercedes-Benz Group or Toyota. According to The Financial Times, it's Mattel. The maker of hot wheels and micro machines has sold 500 million units this year.
The brown suede Birkenstock Arizona sandals worn by Steve Jobs in the Apple Computer's early days were auctioned off in New York on Sunday. NPR reports an anonymous bidder paid $218,750.
Via Dave Pell: "As per usual, The Onion was ahead of the curve." Here's a headline from April: Man Who Lost Everything In Crypto Just Wishes Several Thousand More People Had Warned Him.
The iPhone 14 can send an SOS, even if you don't have coverage. The latest Apple smart device pings one of Globalstar's 24 low-orbit satellites which relays the info to send help. Mashable has a demo so you don't have to test it yourself.
Taylor Swift seems to be breaking Ticketmaster. Customers reported being unable to logon to the site as tickets went on sale for a hand full of Taylor's concert dates. Artists increasingly depend on concert revenues as a new generation of listeners believes all music should be "free," and ticket prices are skyrocketing along with demand.
The once iconic Miami Beach hotel where JFK and the Beatles hung out has been imploded after years of neglect and abandonment. You can see the 17-story Deauville Hotel's history and its destruction here.
The Cleveland property that served as the home of Ralphie Parker and his family 1983's A Christmas Story is up for sale, bunny suit, leg lamp and all. An Ohio-based commercial real estate company listed the property without a price.
Remember the famed RoboCop statue? After being out of the public eye, the icon from the 1987 film may finally be on public display at Eastern Market. Dan Carmody, president of nonprofit Eastern Market Corp., says an announcement is expected by the end of the year. (More)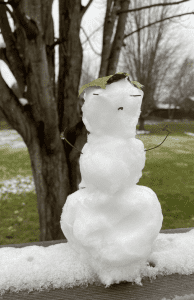 And here's a picture of what may be one of the first snowmen of the Michigan 2022 winter season. Created and submitted by Keener listener Andrea Smith, who lives in Ingham County.
Keener Number Ones on this date:
(1963) Louie Louie, Kingsmen
(1964) Mountain of Love, Johnny Rivers
(1965) I Hear a Symphony, Supremes
(1966) Winchester Cathedral, New Vaudville Band
(1967) Incense & Peppermints, Strawberry Alarm Clock
(1968) Abraham Martin and John, Dion
(1969) Na Na Hey Hey, Steam
(1970) I Think I Love You, Partridge Family
(1971) Have You Seen Her, Chi-lites