November 22, Fifty-nine years ago, at approximately 12:30pm Central time, two shots rang out over Dealey Plaza in Dallas, Texas and a lone assassin took life of President John F. Kennedy. Keener's new hit music format was barely a month old, but the WKNR News Team turned the station into a 24 hour news and information source as listeners from across Detroit tuned to radio and television for news of the president's death and the events that followed. 28 years ago, we recorded a podcast about how Keener and the world covered the tragedy. Here it is.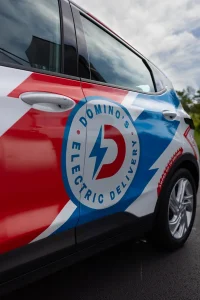 Get your pizza electrically delivered in the new year. Domino's recently announced it will have 855 custom-branded Chevrolet Bolt electric vehicles in delivery service by the end of 2023. Franchisees can lease the EVs as an enticement to potential team members who don't want to put miles on their own vehicles. (More)
With a three game winning streak for the Lions and a victory over the Browns at Ford Field for the blizzard refugee Buffalo Bills, Thanksgiving annual football fest is starting to look interesting. How many years did we expect Turkey, stuffing and a Lion's loss?
This past weekend in 1976 Paul Simon hosted NBC's Saturday Night Live with George Harrision is his musical guest. They sing two tunes together, "Homeward Bound,""Here Comes the Sun." Imagining how much fun they had rehearsing together.
Today in History:
1899 – The Marconi Wireless Company of America was incorporated in New Jersey.
1906 – The International Radio Telegraphic Convention in Berlin adopted the SOS distress signal.
1910 – Arthur F. Knight patented a steel shaft to replace wood shafts in golf clubs.
1935 – The first trans-Pacific airmail flight began in Alameda, CA, when the flying boat known as the China Clipper left for Manila. The craft was carrying over 110,000 pieces of mail.
1950 – The lowest scoring game in the NBA was played. The Fort Wayne Pistons (later the Detroit Pistons) defeated the Minneapolis Lakers (later the Los Angeles Lakers) 19-18.
1963 – U.S. President Kennedy was assassinated while riding in a motorcade in Dallas, TX. Texas Governor John B. Connally was also seriously wounded. Vice-President Lyndon B. Johnson was inaugurated as the 36th U.S. President.
1975 – "Dr. Zhivago" appeared on TV for the first time. NBC paid $4 million for the broadcast rights.
1977 – Regular passenger service on the Concorde began between New York and Europe. For 27 years it was the fastest way to get from New York to London.
1985 – 38,648 immigrants became citizens of the United States. It was the largest swearing-in ceremony.
1986 – Mike Tyson became the youngest to wear the world heavyweight-boxing crown. He was only 20 years and 4 months old.
Released on this date:
1961 – Elvis Presley – "Can't Help Falling In Love"
1965 – The Beach Boys – "The Little Girl I Once Knew"
1966 – Stevie Wonder – "Uptight (Everything's Alright)"
1967 – Bob Dylan – "All Along The Watchtower"
1967 – Aretha Franklin – "Chain Of Fools"
Keener Birthdays:
1941 – Jesse Colin Young, born (Perry Miller): who co-founded The Youngbloods ("Get Together, #5, 1969), left in 1972 for a 40-year solo career.
1941 – Terry Stafford: who's hit once with the channeled "Suspicion" (#4, 1961), died from liver ailments on 3/17/1996, age 54.
1942 – Floyd Sneed: who played drums for Three Dog Night on ten top-ten hits including "Joy To The World" (#1, 1971) between 1969 and 1973.
1942 – Stephen Caldwell: sang with the doo-wop quartet The Orlons, who gave us the top ten hit, "The Wah-Watusi" (#2, R&B #5, 1962). He quit in 1964 for a career in trade union management and served 29 years on the Philadelphia Board of Education, reforming the group in 1988 for the oldies circuit.
1947 – Sonny Geraci: the versatile Lead singer for Cleveland's Outsiders ("Time Won't Let Me," #5, 1966) and the L.A. group Climax ("Precious And Few," #3, 1972), one of very few artists to score Top 10 hits with two different acts.
1947 – Rod Price: Played the iconic slide guitar licks on Foghat's, "Slow Ride" (#20, 1975). He died following a heart attack on 3/22/2005, age 57.
1948 – Dennis Larden: guitarist and vocalist with his brother Larry in the one hit wonder band Every Mother's Son, cracking the top-ten with "Come On Down To My Boat" (#6, 1967).
1950 – Steve Van Zandt: Axe man and songwriter who was a founding member of Southside Johnny & The Asbury Jukes before joining Bruce Springsteen's E Street Band in 1975. Also known for other solo and collaborative work and as an actor on HBO's The Sopranos.