What's happening:
Macy's may be better known, but America's Thanksgiving Parade takes place TODAY in Detroit! Here are the details.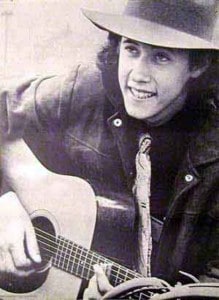 In 1967, Arlo Guthrie released his debut album. The 18 minute cut on side one told the story of Arlo's adventures one Thanksgiving in Stockbridge, Massachusetts. Alice's Restaurant became a counter culture anthem that launched the son of the legendary Woodie Guthrie to the upper echelons of 60s rock and roll culture. The 1969 Arthur Penn film cemented to story into our consciousness.
Arlo's other notable film appearance came in 1970, documenting his performance at Woodstock during the summer of 1969. But he would only chart on the Top 40 with a Steve Goodman penned tale about riding the rails on the famous Illinois Central's City of New Orleans. That album was Hobo's Lullaby, a collection on the Warner Reprise label that made it's debut right around the time that WKNR faded into history.
Every Thanksgiving, those of us who still own the LP dig it out of the closet, dust it off, pop it on the turntable and head back to a time when being a litter bug could get you into real trouble.
Today in History:
1963 – Dallas nightclub owner Jack Ruby shot and killed Lee Harvey Oswald live on national television. He will die of cancer on January 3, 1967.
1969 – Apollo 12 landed safely in the Pacific Ocean bringing an end to the second manned mission to the moon.
1971 – Hijacker Dan Cooper, known as D.B. Cooper, parachuted from a Northwest Airlines 727 over Washington state with $200,000 in ransom.
1987 – The U.S. and the Soviet Union agreed to scrap short- and medium-range missiles. It was the first superpower treaty to eliminate an entire class of nuclear weapons.
1993 – The U.S. Congress gave its final approval to the Brady handgun control bill, named after President Reagan's press secretary who was seriously wounded in John Hinkley, Jr.s assassination attempt on the president on on March 30, 1981,.

1996 – Detroit Lions star, Barry Sanders set an NFL record when he recorded his eighth straight 1,000-yard season. Sanders had a nine year career with the Lions.
1998 – AOL (America Online) announced a deal for their purchase of Netscape for $4.21 billion. Verizon sold of AOL as part of a package deal to Apollo Group Management in May of 2021.
Music Released on This Date:
1967 – The Beatles – "Hello, Goodbye"
1967 – The Beatles – "I Am The Walrus"
1967 – Diana Ross & The Supremes – "In And Out Of Love"
1972 – John Lennon & Plastic Ono Band – "Happy Xmas (War Is Over)"
1973 – Kool & the Gang – "Jungle Boogie"
1978 – Chic – "Le Freak"
Keener Birthdays:
1868 – Scott Joplin: The "King of Ragtime," pianist and prolific jazz and ragtime composer best known for his signature piece, "Maple Leaf Rag" (copyright 1899), died from dementia caused by syphilis on 4/1/1917, age 49
1931 – Tommy Allsup: Guitar player with Buddy Holly & The Crickets, lost the fateful coin toss with Ritchie Valens for the last seat on the fateful flight on February 3, 1959 that killed Holly, Valens and J.P. "The Big Bopper" Richardson, later worked as a session musician for Roy Orbison, Willie Nelson and others, died from complications of a hernia surgery on 1/11/2017, age 85
1936 – Ken Kragen: The music manager, TV producer and fundraising professional credited with a key role in organizing the USA for Africa charitable collaboration and the star-studded single "We Are The World" (Worldwide #1, 1985), convinced Kenny Rogers, Lionel Richie, Quincy Jones and other clients to join the effort and recruit other top artists, the project raised over $64 million for African famine relief, followed in 1986 with the semi-successful Hands Across America anti-poverty fundraiser and subsequent events, earlier produced the Smothers Brothers Comedy Hour (1967-69) and managed The Bee Gees, Olivia Newton-John and others, continued to consult for businesses and not-for-profits, and teach at UCLA and other schools before dying from natural causes on 12/14/2021, age 85.
1939 – Jim Yester: Guitar player and vocals for The Association, "Along Comes Mary" (#7, 1966)
1939 – Carl Bunch: The drummer recruited for Buddy Holly's band in the "Winter Dance Party" tour of 1959, suffered frostbite due to a malfunctioning tour bus heater and was hospitalized while the rest of the band took the ill-fated plane flight that killed Holly and others, did session work in Nashville following a stint in the Army, died from diabetes on 3/26/2011, age 71
1941 – Pete Best: Played drums for The Beatles from August 1960 until he was fired and replaced by Ringo Starr in August 1962, went into civil service and continued to perform as frontman to his own bands
1941 – Donald Duck Dunn: Bass player, songwriter, highly regarded session player, member of Stax Records house band Booker T. & The MG's, "Green Onions" (#3, 1962) and The Blues Brothers, "Soul Man" (#14, 1979), died in his sleep while on tour in Tokyo on 5/13/2012, age 70
1941 – Wayne Jackson: Trumpet player for various studio session bands at Stax Records, first as The Mar-Keys ("Last Night," #3, 1961) and later as Booker T. & The M.G.'s, joined with tenor saxophonist Andrew Love to form The Memphis Horns in 1969 and played on scores of albums by Elvis Presley, Rod Stewart, U2, among others, died from congestive heart failure on 6/21/2016, age 74
1945 – Lee Michaels: One hit wonder psych-rock/blue eyed soul singer, songwriter and keyboardist, "Do You Know What I Mean" (#6, 1971)