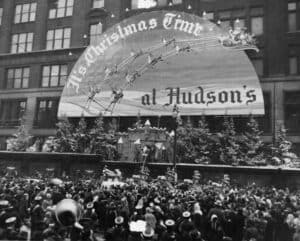 It's Black Friday and our email boxes are brimming with ads. Experts are debating higher prices, possible supply chain issues and shoppers demanding quality over quantity. But one thing is certain: There will be a ton of deals.
Want to carry gratitude with you into the holiday season? Forbes lists 8 ways to do it, including hobbies and exercise. Both activities generate endorphins which boost your mood and immune system, making it easier to feel and express happiness. (More)
Axios' 2022 survey of what we are thankful for distills down to three traits: humility, resilience and love. Here are 12 examples. (More)
NFL Sunday Ticket is on the auction block. And closing a new deal has taken longer than expected. Apple, Google and perhaps even Disney are considered contenders to capture DirecTV's long time exclusive. (More)
Research released by Cycling Frog Seltzer reveals that America's most popular "weird" Thanksgiving dishes tend to share some common ingredients: Cool Whip, marshmallows, and Jell-O. Here's a state by state list of our country's strangest holiday concoctions. (More)
The Information reports HP is looking at workforce resizing differently from job slashers at Amazon and Twitter. The firm recently announced a three year runway to trim up to 6000 positions, with a goal of better evaluating and retaining good performers.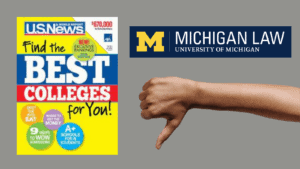 The U-M Law School is the latest to bow out of the US News annual college rankings. Telling the Detroit News the "rankings no longer serve the public interest." Michigan joins Yale, Harvard, Columbia, Georgetown, Stanford and University of California at Berkeley in declining inclusion in the once influential rating publication. (More)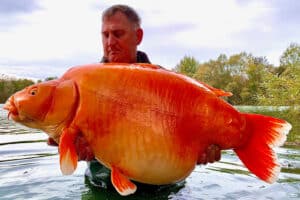 British angler Andy Hackett reeled in a 67 pound goldfish earlier this month at Bluewater Lakes in Champagne, France. Social media named the catch "Carrot." The hybrid species of a leather carp and a koi carp is being described as one of the biggest in the world.
Another Bitty & Beau's Coffee, has opened in Ann Arbor. The café with a cause, opened in September on S. Main downtown Main, headquartered in North Carolina employs team members with a variety of disabilities, to facilitate social interactions and build a welcoming environment.
Worrying about the impact of social media and news? Axios reminds us that 75% of people in the U.S. never tweet. And an average weeknight in January, just 1.5% of U.S. adults watched primetime news. "The bottom line," they write. "Everyone else is too busy being … normal."
Today in History: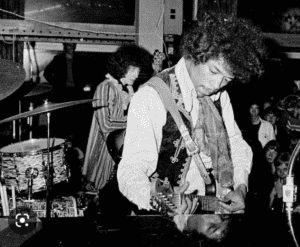 1947 – Red Scare: The "Hollywood Ten" are blacklisted by Hollywood movie studios.
1952 – Agatha Christie's murder-mystery play The Mousetrap opens at the Ambassadors Theatre in London later becoming the longest continuously-running play in history.
1963 – President John F. Kennedy is buried at Arlington National Cemetery.
1965 – Harrods department store in London, England, closed to the public so The Beatles could do their Christmas shopping in private.
1966 – The Jimi Hendrix Experience made their UK live debut at the Bag O'Nails Club, London. They played using the clubs DJ booth. Eric Clapton, Pete Townshend, The Beatles, Mick Jagger, Brian Jones, Jeff Beck, Jimmy Page, The Hollies, and the Small Faces would all hang out at the club.
1969 – John Lennon returned his MBE to The Queen on the grounds of the UK's involvement in the Nigeria Biafra war and America in Vietnam.
1972 – Chuck Berry's cover of Dave Bartholomew's My Ding a-Ling' tops the singles charts. Boston radio station WMEX disc jockey Jim Connors was given a gold record for discovering the song and pushing it on the air until other DJ's followed his lead.
1976 – The Band made their final performance; 'The Last Waltz' at Winterland Ballroom in San Francisco. The show also featured Joni Mitchell, Dr John, Neil Young, Van Morrison, Neil Diamond, Eric Clapton and others. The event was filmed by director Martin Scorsese and made into a documentary of the same name, released in 1978.
Music Released Today: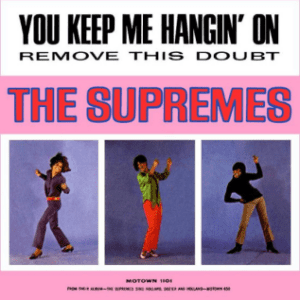 1966 – The Supremes – "You Keep Me Hangin' On"
1977 – Eric Clapton's LP "Slowhand" – "Lay Down Sally", "Wonderful Tonight," and "Cocaine" became single hits.
Keener Birthdays:
1941 – Percy Sledge: who topped the charts with "When A Man Loves A Woman" (#1, 1965) and three other Top 40 hits, died from liver cancer on 4/14/2015, age 73
1942 – Bob Lind: who had one top 10 hit with "Elusive Butterfly" (#5, 1966). Sometimes credited with being in the vanguard of folk-rock music.
1944 – Bev Bevan: Drummer and founding member of The Move, "Blackberry Way" (UK #1, 1968), and Electric Light Orchestra, "Don't Bring Me Down" (#4, 1979) and 26 other Top 40 hits.
1960 – Amy Grant: The former Contemporary Christian singer / songwriter who found success with "Every Heartbeat" (#1, 1991) and six other Top 40 hits.