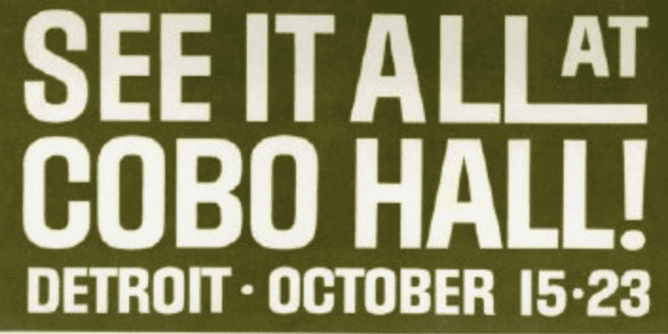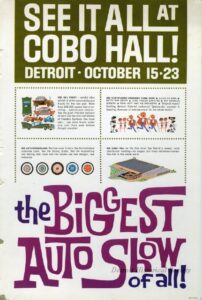 On October 15, 1960, the Detroit Auto Show opened at Cobo Hall – the first time it was held in the location where it remains today. Here's the backstory. In 1899, Detroit saw its first car exhibition featuring electric and steam-powered cars alongside sporting goods. Organized by the Tri-State Automobile and Sporting Goods Association, it continued until 1907, when the Detroit Automobile Dealers Association (DADA) took over. The DADA's December 1907 event was held at a beer garden near the Belle Isle Bridge, and it grew over the years, changing locations until it found a permanent home at Cobo Hall in 1965. In 1989, it became the North American International Auto Show (NAIAS). This two-week show attracts over 6,000 journalists from 60+ countries and more than 800,000 visitors. Its black-tie charity preview, held since 1976, has raised over $112 million for local children's charities, making it the most successful annual fundraiser in the nation. Today, the NAIAS showcases 700+ vehicles, including new models and concept cars. Constructing the elaborate displays and installing 75,000 yards of carpet takes about 10 weeks, and the event consumes enough electricity to power 180 homes for a year. Starting in 2020, the DADA decided to move the show to spring to increase attendance and offer more outdoor exhibits and activities.
Notable:
On October 15, 1951, television history was made when "I Love Lucy" made its debut on CBS. It was one of the first TV shows to portray an interracial couple, with the fiery redhead Lucy married to the Cuban bandleader Ricky. Lucille Ball's comedic timing and physical humor made her an instant sensation, while Desi Arnaz's charming portrayal of Ricky earned him a permanent place in the hearts of viewers. Brilliant writing and an unforgettable supporting cast, including Vivian Vance and William Frawley as the Mertzes, contributed to the show's immense popularity. The show won numerous awards and became a cultural phenomenon during its six-season run. Even after its conclusion, "I Love Lucy" has continued to captivate audiences through reruns, cementing its status as one of the greatest sitcoms of all time.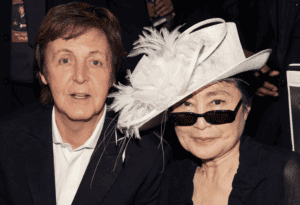 In a recent episode of his "McCartney: A Life in Lyrics" podcast, Paul reminisced about a significant period in the Beatles' history when John Lennon invited his wife, Yoko Ono, into the studio. Yoko's presence during recording sessions disrupted the Beatles' established working methods. Paul attributed the Beatle breakup to John's desire for a new life with Yoko. Despite the complexities and challenges, McCartney continues to reflect fondly on his late friend John Lennon, commemorating him on what would have been his 83rd birthday earlier in the week. John Lennon's legacy remains a significant part of the Beatles' and music history. (People)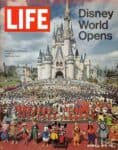 Two weeks after it's official opening on October 1, 1971, Life Magazine put Walt Disney World on it's cover. The grand opening of Walt Disney World in Orlando, Florida, was a spectacular affair. Roy O. Disney, Walt's brother, dedicated the resort to his brother's memory, ensuring that the dream they had both shared would become a reality. With its sprawling Magic Kingdom, the Contemporary Resort, the Polynesian Village Resort, and Fort Wilderness, the opening marked the beginning of an extraordinary adventure. Walt Disney's vision for a place where dreams come true had already materialized with the opening of Disneyland in California. However, he yearned to create something grander, more enchanting, and truly immersive. Florida's vast landscape presented an opportunity, and so, the idea for Walt Disney World was born.
For the rich and famous, servants are out and "experts" are in. The trend includes everything from the use of personal chemists, private doctors, dietitians, and wellness practitioners to help extend their lives, and even matchmakers to ensure they have high-IQ partners. Experts also help in selecting the right furnishings, cars, and even art for affluent homes. (WaPost)

Today in History:
1878 – The Edison Electric Light Company is incorporated.
1955 – Canadian quartet The Four Lads' "Moments To Remember" ranks fourth on the US singles chart, with over four million copies sold.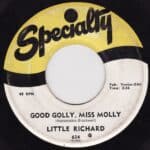 1956 – Little Richard records "Good Golly Miss Molly" in New Orleans, becoming a rock 'n' roll standard.
1957 – "Elvis' Christmas Album" is released, eventually becoming the world's best-selling Christmas album.
1958 – Jackie Wilson records "Lonely Teardrops," his first US Top Ten hit.
1959 – The TV series "The Untouchables" starring Robert Stack premieres.
1960 – Ringo Starr temporarily replaces Pete Best during a recording session in Hamburg, Germany.
1963 – The Rip Chords record "Hey Little Cobra," featuring Terry Melcher and Bruce Johnston.
1964 – Craig Breedlove sets auto speed record of 846.97 kph. The Beach Boys memorialize the event in the tune, "Spirit of America."
1965 – Jimi Hendrix signs his first recording contract, agreeing to a 1% royalty on all recordings.
1971 – Rick Nelson is inspired to write "Garden Party" after performing at a Rock 'n' Roll Revival Show in New York.
1973 – The US Supreme Court refuses to review a directive censoring songs with drug-oriented lyrics.
1976 – Ike and Tina Turner announce their split as a musical act.
1977 – Debbie Boone's "You Light Up My Life" reaches #1 on the Billboard Pop chart.
1977 – "Serpentine Fire" is released by Earth, Wind & Fire. The single will become Billboard Song of the Year for 1978.
1982 – Marvin Gaye's "Sexual Healing" enters the Billboard R&B singles chart on its way to number one.
1995 – Paul and Linda McCartney guest-voice on The Simpsons in an episode called "Lisa the Vegetarian."
2003 – Mike Smith, former lead singer of The Dave Clark Five, suffers a fall that leaves him paralyzed.
2018 – The Beatles' "Sgt. Pepper's Lonely Hearts Club Band" is named the most popular British album of all time by Britain's Official Charts
Company.
Singles Released Today: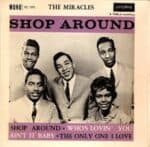 1960 – The Miracles, "Shop Around"
1968 – Stevie Wonder, "For Once In My Life"
1969 – The Kinks, "Victoria"
1970 – The Supremes, "Stoned Love"
1971 – Sly & The Family Stone, "Family Affair"
1972 – The Isley Brothers, "Work To Do"
1973 – Elton John, "Goodbye Yellow Brick Road"
Today's Birthdays:
1921 – Mario Puzo, Novelist (The Godfather, Cotton Club, Earthquake, Superman), born in NYC, New York (d. 1999)
1922 Tommy Edwards, R&B singer-songwriter ("It's All In The Game"), born in Richmond, Virginia (d. 1969)
1924 – Lee Iacocca, Automotive executive (CEO of Chrysler Corp), born in Allentown, Pennsylvania (d. 2019)
1925 – Mickey Baker of Mickey & Sylvia ("Love Is Strange")(d. 2012)
1935 – Barry McGuire, (age 88) (New Christie Minstrals, "Eve Of Destruction")
1938 – Marv Johnson, R&B pianist, songwriter, and singer ("You Got What It Takes"; "(You've Got To) Move Two Mountains"), born in Detroit (d. 1993)
1942 – Don Stevenson, (age 82) American rock drummer, singer, and songwriter (Moby Grape – "Ohama"), born in Seattle, Washington
1943 – Penny Marshall, Actress (The Odd Couple; Laverne & Shirley), and director (Big; Awakenings; A League of Their Own), and producer (Cinderella Man), born in The Bronx, New York. (d. 2018)
1946 – Richard Carpenter, (age 77) Pop pianist, songwriter, arranger, and producer (The Carpenters – "Close to You"), born in New Haven, Connecticut.
1948 – Chris De Burgh, (age 75) ("Lady In Red")
1953 – Tito Jackson, (age 70) Singer (Jackson 5 – "ABC"; "Never Can Say Goodbye"), born in Gary, Indiana.
1959 – Emeril Lagasse, (age 64) American chef (Emeril Live), born in Fall River, Massachusetts.