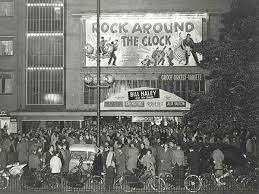 Notable:
Today in 1956…The movie "Rock Around the Clock," starring Bill Haley and His Comets, Alan Freed, the Platters, and Freddie Bell, had its world premiere in Washington, DC
Although ratings for the Academy Awards jumped 12% year over year, the 18 million viewers ranked 4th worst in the televised history of the event. HBO/MAX's "The Last of Us" drew 8 million eyeballs in the same time period.
According to a recent Zola study the cost of getting married continues to rise. The average cost of a wedding in 2023 will be $29,000 — up from $28,000 in 2022.
Tesla is relaunching its Powerwall residential battery, two years after restricting sales of the product due to supply constraints. Customers can now buy a stand alone Powerwall, for $9,200 through Tesla website, separate from the necessary roof mounted $12,000 dollar solar panels.
Today in History:
1794…Eli Whitney received a patent for his cotton gin, a mechanical device that removes the seeds from cotton and one of the key inventions of the Industrial Revolution. The word gin is short
1914…Henry Ford announced his new continuous motion method to assemble cars that reduced the time it took to make a car from 12½ hours to 93 minutes.
1923…Warren Harding became the first U.S. president to file an income tax return.
1958…The first Gold Record was awarded to Perry Como for his single, "Catch A Falling Star."
1964…For the first time in British recording history, all Top Ten UK singles were by British acts: "Anyone Who Had A Heart" by Cilla Black, followed by "Bits and Pieces," Dave Clark Five; "Little Children," Billy J Kramer; "Diane," Bachelors; "Not Fade Away," Rolling Stones; "Just One Look," Hollies; "Needles and Pins," Searchers; "I Think Of You," Merseybeats; "Boys Cry," Eden Kane; and "Let Me Go Lover" Kathy Kirby.
1965…Petula Clark made her American television debut on CBS's "The Ed Sullivan Show," singing "Downtown" and "I Know A Place."
1972…Carole King's Tapestry takes Album of The Year at the Grammy Awards. Carly Simon wins for Best New Artist.
1980…On his 47th birthday, Quincy Jones received a star on the Hollywood Walk of Fame.
Singles Released Today (via DrRock.com):
1963 – Gerry & The Pacemakers • "How Do You Do It?"
1966 – Percy Sledge • "When A Man Loves A Woman"
1966 – The Byrds • "Eight Miles High"
1975 – Nazareth • "Hair Of The Dog"
1975 – Carpenters • "Only Yesterday"
Today's Birthdays (via DrRock.com):
1933 – Quincy Jones legendary producer. "Stuff Like That" (#21, R&B #1, 1978), worked with Michael Jackson for Thriller and Off The Wall.
1943 – Jim Pons Bassist for The Leaves, then pop-rock The Turtles, "Happy Together" (#1, 1967), then with Frank Zappa's Mothers Of Invention
1943 – "Sugarfoot" Bonner / (Leroy Roosevelt Bonner) Founding member, frontman and lead guitarist for influential R&B/funk The Ohio Players, "Love Rollercoaster" (#1, R&B #1, 1975) and six other Top 40 hits in the mid-70s, issued a lone solo album (Sugar Kiss, 1985), died from cancer on 1/26/2013, age 69
1945 – Michael Martin Murphey Grammy-winning Western swing. light country-rock, pop ballad and cowboy song singer and songwriter, "Wildfire" (#3, 1975) and "Carolina In The Pines" (Country #9, 1985), wrote the New Mexico state song, "The Land Of Enchantment," concentrated on cowboy themes and Western music in the 90s and early 00s, shifted to bluegrass in the later 00s and continues to record and perform into the 10s
1945 – Walter Parazaider Saxophonist for pop-rock Chicago, "Saturday In The Park" (#3, 1972) and five #1 albums during the 1970s
1947 – Jimmy O'Rourke Guitarist and singer with blue-eyed soul one hit wonder John Fred & His Playboy Band, "Judy In Disguise (With Glasses)" (#1, 1968)
1950 – Rick Dees / (Rigdon Osmond Dees III) Comedian, songwriter, musician, Los Angeles radio DJ (KIIS-FM) and host of the syndicated Weekly Top 40 Countdown, also known for the novelty-pop single "Disco Duck" (#1, 1976)