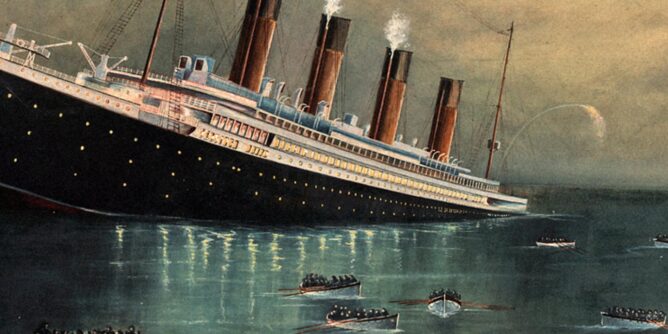 Today in History:
1892 – The General Electric Company was formed by the merger of Edison General Electric of Schenectady, New York and Thomson-Houston Electric Company of Lynn, Massachusetts. The company was incorporated in New York, with the Schenectady plant serving as its headquarters for many years.
1912 – After midnight, two wireless radio operators at Cape Race, Newfoundland heard the last of the RMS Titanic's distress calls. At 2:27 a.m., the "unsinkable" ocean liner sank in the North Atlantic after hitting an iceberg the evening before. There were 711 survivors. A total of 1,517 people died, of which 328 bodies were recovered. Those too badly damaged or deteriorated were buried at sea, and the remaining 209 were taken to Halifax, Nova Scotia, where they were claimed from the morgues or buried over an 11-day period starting May 3.
1923 – Insulin became available for general use, to treat people suffering from diabetes.
1947 – Jackie Robinson broke the baseball "color line," as the first black man to play in baseball's major leagues since the 1880s, when he made his debut with the Brooklyn Dodgers at Ebbets Field. He went hitless that day but did get on base due to an error and scored the winning run in a 5-3 victory over the Boston Braves.
1955 – In Des Plaines (suburban Chicago), Illinois, Ray Kroc opened the first McDonald's fast food restaurant.
1956 – Columbia Records music director Mitch Miller, disc jockey Alan Freed, and two psychiatrists appeared on Eric Sevareid's TV program "CBS Sunday News" to discuss the "potentially negative effects of rock 'n' roll on teenagers."
1956 – In Chicago, the world's first all-color TV station – WNBQ, now WMAQ – was dedicated.
1957 – Jerry Lee Lewis releases "Whole Lotta Shakin' Goin' On."
1958 – Buddy Holly's Fender Stratocaster guitar was stolen from the Crickets' station wagon while the group stopped to have lunch before a concert in St. Louis.
1960 – "Because They're Young," starring Dick Clark, Tuesday Weld, Warren Berlinger, and Doug McClure, with cameos by Duane Eddy and James Darren, opened in U.S. and Canadian movie theaters.
1965 – At the Columbia Recording Studio in Nashville, Roger Miller recorded "Engine Engine #9."
1965 – The Supremes released the single "Back In My Arms Again."
1965 – Gary Lewis & The Playboys release "Count Me In."
1966 – In San Bernadino, California, Buffalo Springfield performed in concert for the first time, as the opening act for the Byrds.
1967 – The Who released their second album, "Happy Jack," in North America.
1968 – At the Atlantic Studios in New York City, Aretha Franklin recorded her composition, "Think."
1968 – At the Capitol Tower Recording Studio in Hollywood, Glen Campbell recorded "Dreams Of The Everyday Housewife."
1968 – The Beatles release "Lady Madonna."
1971 – Neil Diamond releases "I Am…I Said" with "Done Too Soon" on the flip side.
1973 – J. Geils Band releases "Give It To Me."
1977 – Marvin Gaye releases "Got To Give It Up (Pt. I)"
1983 – Tokyo Disneyland opened, the first Disney park built outside of the United States. The theme park is located at the Tokyo Disney Resort in Urayasu, Chiba, Japan, near Tokyo.
1992 – "Star Trek" cast members William Shatner, Leonard Nimoy and DeForest Kelley were inducted into the National Association of Broadcasters Hall of Fame.
Today's Birthdays (Via DrRock.com):
1932 – Arif Mardin – Atlantic Records producer and arranger, worked with Al Green, Aretha Franklin, The Doobie Brothers, Bette Midler, Average White Band, Barbra Streisand, Norah Jones and others, died on 6/25/2006, age 74
1936 – Howard Greenfield – Lyricist and songwriter, worked in the Brill Building in the 1960s, co-wrote dozens of hits, including "Breaking Up Is Hard To Do" for Neil Sedaka (#1, 1962) and "Love Will Keep Us Together" for The Captain & Tennille, #1, 1970), co-wrote TV theme songs, including Bewitched, The Flying Nun and Hazel, died from complications due to AIDS on 3/4/1986, age 49
1940 – Phil Lesh – Bassist and occasional lead vocals for rock's longest, strangest trip Grateful Dead, "Sugar Magnolia" (#91, 1973) and "Touch Of Grey" (#9, 1987), the Dead spinoffs The Other Ones and Phil Lesh & Friends
1941 – Mike Love – Lead vocals and, since 1961, the only consistent member of surf-pop-rock The Beach Boys, "Good Vibrations" (#1, 1966) and "Kokomo" (#1, 1988), lone solo album in 1981
1944 – David Costell – Guitarist for pop-rock Gary Lewis & The Playboys, "This Diamond Ring" (#1, 1965) plus 11 other US Top 40 hits between 1965 and 1968
1944 – Sly Stone / (Sylvester Stewart) – Founder, frontman, vocals, guitar and keyboards for R&B/funk Sly & The Family Stone, "Everyday People" (#1, 1969)
1944 – Ralph MacDonald / (Ralph Anthony MacDonald) – Trinbagonian-American percussionist, producer and songwriter, played with scores of acts including as charter member of Jimmy Buffett's Coral Reefer Band, best known for co-penning the Grammy winners "Where Is The Love" for Roberta Flack and Donny Hathaway (#5, R&B #1, 1972), as well as "Just The Two Of Us" for Bill Withers and Grover Washington, Jr. (#2, 1981), among others, died from lung cancer on 12/18/2011, age 67
1946 – Howard Scott – Co-founder and guitarist for R&B cover band The Creators, which became funk-blues-jazz-rock War, "Cisco Kid" (#2, 1973)
1947 – Frank Lugo – Bassist for garage rock ? And The Mysterians, "96 Tears" (#1, 1966)
1947 – Ry Cooder / (Ryland Peter "Ry" Cooder) – Country-folk-blues-rock session guitarist, member of supergroups Rising Sons and later Little Village, Grammy-winning solo artist