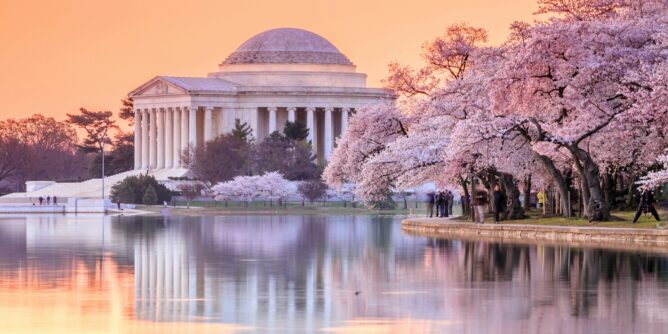 What's Happening?
A sign of Spring: The National Park Service's "Peak Bloom Projection" says puffy blossoms will envelop the Tidal Basin this Wednesday through Saturday.
The American Kennel Club announced that, after a record 31-year reign, the Labrador retriever has been eclipsed as the most prevalent purebred dog in the U.S. — by the French bulldog.
Attending sporting events may be good for you. Sports fans will certainly love the findings of this study out of the United Kingdom. There's good reason to attend your favorite team's games in person — and it's not to catch some potential sports history or enjoy greasy stadium food. Scientists at Anglia Ruskin University say that watching live sporting events actually improve well-being and can reduce feelings of loneliness. The findings come after a survey of more than 7,000 adults which shows that sports fans who attend games in person — be it professional or amateur — scored better than those who didn't in terms of life satisfaction
Learning love languages can improve your relationships. Each of us has a preferred love language. Check out our Keener poll to see which best describes you and your love interest.
Deeper Dive: Nice news notes: In 1992, pastor and marriage counselor Gary Chapman published The 5 Love Languages, describing the five ways he'd most often observed couples expressing their love for each other: acts of service, words of affirmation, quality time, gifts, and physical touch. The book became a bestseller, and the concept is still widely embraced over three decades later. "The idea is that by learning what your partner's love languages are, you're able to better speak directly to their heartand make them feel loved," relationship expert Jodie Milton recently told Today, adding: "And when you know your own love language, you're able to ask for the types of things you need to feel loved, appreciated, and accepted." Take this quiz to find out yours, or click here to learn seven common misconceptions that could be hindering you from fully understanding how you give and receive love.
Yoga can keep your body strong. Nice News reports Yoga has long been touted as a beneficial practice for both physical and mental health, 33 past studies, involving a total of 2,384 participants over age 65 confirm yoga is a beneficial practice for both physical and mental health. Yoga can help improve walking speed and the ability to rise from a chair, capabilities "associated with reduced frailty and increased lifespan." Frailty is estimated to affect up to half of those over age 80, and has a range of symptoms, including weakness, slowness, and decreased endurance, as well as a higher instance of falls and hospitalizations. "When you look at a whole person, especially an older person, there may be a number of difficulties that each contribute to frailty," said lead author Julia Loewenthal. "Since yoga is an integrative practice that impacts multiple areas of health, it may be effective for preventing a syndrome like frailty, which has multiple causes."
America needs technical workers — and supply isn't measuring up to demand. The construction industry faces a gap of a half million workers, according to Construction Dive.
Meanwhile, student debt is rising. Only two-thirds of those with degrees say the debt was worth it, per a YouGov poll.
Brackets Busted? Watch the Women. With hopes of a separate TV contract in upcoming negotiations, the women's NCAA Tournament keeps gaining momentum, AP's Joe Reedy reports. The national title game returns to network television for the first time since 1995, with an ABC broadcast on April 2 from Dallas.
Want to live on a cruise ship? Victoria Cruises Line is chartering a 30-year-old ship previously owned by Holland America Line to use as its condominium at sea. Residents can rent staterooms starting at $8000 per month as the former Victoria Majestic continually circumnavigates the globe.
How would you spend extra free time? According to the Washington Post, with a 4-Day workweek again gaining sociological traction, American Time Use Survey (ATUS) data tells us we would spend our extra free time much like we do now: leisurely reading or exercising, meeting up with friends, sleeping. https://www.washingtonpost.com/business/interactive/2023/four-day-work-week
Released Today:
1964 – The Beatles – "Can't Buy Me Love"
1964 – Dave Clark Five – "Bits And Pieces"
1964 – The Beatles – "You Can't Do That"
1967 – The Supremes – "The Happening"
1972 – Paul Simon – "Me And Julio Down By The Schoolyard"
1973 – Jim Croce – "Bad, Bad Leroy Brown"
1978 – Paul McCartney & Wings – "With A Little Luck"
Born Today (Via DrRock.com):
1906 – Ozzie Nelson / (Oswald George Nelson) – Bandleader, radio host and TV actor, director and producer, fronted swing/easy listening The Ozzie Nelson Band in the 30s and 40s ("And Then Some," #1, 1935) with his wife, Harriet on second vocal, developed and produced The Adventures of Ozzie And Harriet (with their sons, David and Ricky) on radio in 1944 and moved to TV in 1952, appeared on TV for a final time in 1973 and died from liver cancer on 6/3/1975, age 69
1922 – Carl Reiner – American actor, stand-up comedian, director, screenwriter, and author whose career spanned seven decades. Developed The Dick VanDyke show and, with Mel Brooks, the 2000 Year Old Man. He was the recipient of many awards and honors, including 11 Primetime Emmy Awards, a Grammy Award, and the Mark Twain Prize for American Humor. Died June 29, 2020.
1922 – Ray Goulding  – 1/2 of the comedy team of Bob and Ray. Died: March 24, 1990.
1928 – Fred "Mr." Rogers – American television host, author, producer, and Presbyterian minister. He was the creator, showrunner, and host of the preschool television series Mister Rogers' Neighborhood, which ran from 1968 to 2001. Died: February 27, 2003.
1931 – Hal Linden – American stage and screen actor, television director and musician, best known for the comedy Barney Miller. Linden began his career as a big band musician and singer in the 1950s. After a stint in the United States Army, he began an acting career, first working in summer stock and off-Broadway productions.
1937 – Jerry Reed / (Jerry Reed Hubbard) – The "Guitar Man," Grammy-winning country singer and guitarist, "Amos Moses" (#8, 1971), sessionman, TV and screen actor (Smokey And The Bandit, 1977), died from emphysema on 9/1/2008, age 71
1950 – William Hurt – American actor. Known for his performances on stage and screen, he received various awards including an Academy Award, BAFTA Award and Cannes Film Festival Award for Best Actor. He studied at the Juilliard School and began acting on stage in the 1970s. Died: March 13, 2022
1950 – Carl Palmer – Progressive rock drummer and percussionist, first with Atomic Rooster, "The Devil's Answer" (, 1971), then supergroup Emerson Lake & Palmer, "From The Beginning" (#39, 1972), and later Asia, "Heat Of The Moment" (#4, 1982)
1957 – Spike Lee – American filmmaker and actor. Lee's work has continually explored race relations, issues within the black community, the role of media in contemporary life, urban crime and poverty, and other political issues.
1958 – Holly Hunter – American actress. Hunter won the Academy Award for Best Actress for her performance as Ada McGrath in the 1993 drama film The Piano. She earned three additional Academy Award nominations for Broadcast News, The Firm, and Thirteen.