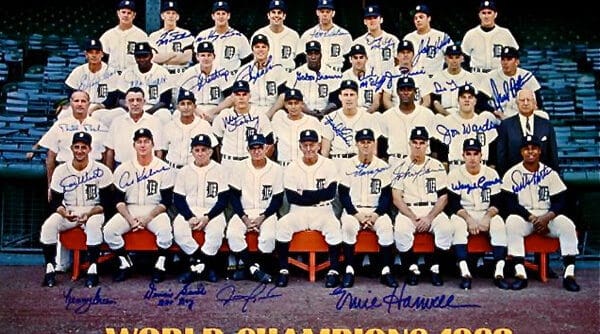 The Tigers win it all! 55 years ago this afternoon – October 10, 1968 – the Detroit Tigers clinched the World Championship in Game 7 of the World Series vs the St Louis Cardinals. An incredibly important day in Detroit and Michigan sports history. People of the Keener Generation remember it well!
Notable:
Remember the Plymouth Barracuda? While we all loved the Ford Mustang, the classic Barracuda had its share of devotees.
The First Generation (1964-1966), had a sleek fastback design and shared many parts with the Plymouth Valiant.
The Second Generation (1967-1969), was still based on the Valiant but got a stylish makeover in fastback, notchback, and convertible versions.
The Third Generation (1970-1974), was exclusive to Barracuda and the Dodge Challenger, featuring a completely new design and coming in hardtop and convertible styles.
In the early days, the Barracuda faced competition from the Ford Mustang but had a shorter sales season in 1964, selling 23,443 units compared to the Mustang's 126,538 during the same period. Various engine options and packages were introduced over the years to compete in the pony car market.
The Barracuda was discontinued after 1974, a victim of the 1973 energy crisis.
What's your favorite memory of the Plymouth Barracuda?
How to live a longer, happier life: The key lesson from the oldest and wisest Americans for a happier, longer life is to recognize that time is limited and not to waste it on regrets. Instead, focus on expressing gratitude, spending time with loved ones, enjoying daily pleasures, pursuing a job you love, and choosing your life partner carefully. They emphasize that external events don't determine happiness; it's a conscious choice to be optimistic and hopeful. Ultimately, you have the power to decide how to lead a fulfilling life. (CNBC)
How do Americans save or splurge? According to a study by the bargain-hunting website Slick Deals, Americans are comfortable saving money on items like hand soap, dish soap, paper towels, wine, dining out, casual shirts, small household appliances, jeans, dress pants, dresses, socks, handbags, sunglasses, belts, jewelry, produce, bread, cheese, butter, chips/snacks, spaghetti sauce, beer, bottled water, milk, over-the-counter medicine, sunscreen, razors, cooking supplies, soda, shampoo, cereal, pizza, garbage bags. However, they tend to indulge in higher-quality options for toilet paper, toothpaste, toothbrushes, skincare products, coffee, dress shirts, shoes, large household appliances, laptops/computers, smartphones, coats, facial creams/cleansers, TVs and TV audio, pet food, laundry detergent, beds, couches/chairs, makeup.
Google recently introduced several updates to Bard, its AI chatbot, including extensions that enable Bard to integrate with Gmail, Docs, and YouTube. Google has prioritized artificial intelligence as a key element to make it easier to find what you're looking for. (Wired)
Today in History:
1939 – The real Eleanor Rigby passed away at 44. The Beatles' song featuring her name wasn't written about her, initially named Miss Daisy Hawkins by Paul McCartney. Eleanor Rigby's tombstone was discovered in the graveyard of St. Peter's Parish Church in Woolton, Liverpool, near the spot where McCartney and Lennon first met in 1957.
1956 – Elvis Presley's "Love Me Tender" entered the Billboard chart, staying for 19 weeks and topping it for five weeks. The song was adapted from the tune "Aura Lee," written in 1861.
1959 – Berry Gordy's Motown Records released "Bad Girls" by The Miracles, which entered the Billboard Pop chart for two weeks.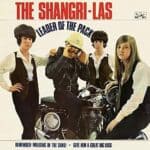 1964 – The Shangri-Las released "Leader Of The Pack," their only number one among six US Top 40 hits, reaching #11 in the UK.
1964 – The Honeycombs, a London quintet, entered the Billboard Top 40 with "Have I The Right," reaching #5 in the US and selling over two million copies worldwide.
1969 – King Crimson, an English Rock band, released their debut album, "In the Court of the Crimson King," considered by some as the first Progressive Rock LP, reaching #5 on the UK Official Albums Chart and #28 on the Billboard 200.
1970 – Neil Diamond's "Cracklin' Rosie" topped the Billboard Hot 100 for one week, becoming his first US number one record and reaching #3 in the UK.
1979 – Fleetwood Mac received a star on the Hollywood Walk of Fame, and the movie "The Rose," starring Bette Midler as a self-destructive Rock star inspired by Janis Joplin, premiered in Los Angeles, receiving four Academy Award nominations.
1987 – ZZ Top's three members made advance bookings for seats on the first passenger flight to the Moon.
1995 – Peter Frampton released "Frampton Comes Alive II," featuring live versions of songs from his 1980s and 1990s solo albums, although it did not sell well.
1999 – A charity auction selling Elvis Presley's belongings was held in Las Vegas, with items like his wristwatch selling for $32,500, a cigar box for $25,000, an autographed baseball for $19,000, and his 1956 Lincoln Continental for $250,000.
Today's Birthdays: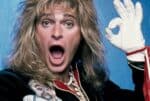 1900 – Helen Hayes, Actress (Airport), and 1st female EGOT (Emmy, Grammy, Oscar, and Tony Award winner), born in Washington, D.C. (d. 1993)
1914 – Ivory Joe Hunter, ("Since I Met You Baby")(d. 1974)
1917 – Thelonious Monk, American jazz pianist and composer ("Straight, No Chaser"; "'Round Midnight"; "Brilliant Corners"), born in Rocky Mount, North Carolina (d. 1982)
1924 – Ed Wood, Filmmaker and director (Plan 9 from Outer Space), born in Poughkeepsie, New York (d. 1978)
1927 – Dana Elcar, Actor (Peter Thornton- MacGyver), born in Ferndale, Michigan (d. 2005)
1940 – Anita Humes, lead vocalist for The Essex ("Easier Said Than Done")(d. 2010)
1941 – Peter Coyote (age 82) [Rachmil Pinchus Ben Mosha Cohon], Actor (ET, Raiders of the Lost Ark), born in NYC, New York
1943 – Denis D'Ell, vocalist for The Honeycombes ("Have I The Right")(d. 2005)
1946 – John Prine, Country folk singer-songwriter ("Hello in There"; "Angel From Montgomery"; "Summer's End"), born in Maywood, Illinois (d. 2020)
1948 – Cyril Neville (age 75), of The Neville Brothers ("Tell It Like It Is")
1955 – David Lee Roth (age 68), lead singer for Van Halen ("Jump")
1969 – Brett Farvre (age 54), NFL quarterback (Green Bay Packers-Super Bowl 31), born in Gulfport, Mississippi
1974 – Dale Earnhardt Jr. (age 49), Auto racer, team owner and broadcaster (Daytona 500 2004, 14; Busch Series 1998-99), born in Kannapolis, North Carolina